The right rug can elevate a living room, and we believe that the space is complete only with an area rug. From a practical angle, area rugs provide cushion and underfoot warmth to the floors, wood, or tile. Adding rugs to the floor help to muffle the sound and reduce echoes in the room. However, from an interior designer's perspective, an area rug can make or break a room!
Rugs make a significant impact in the living room. The right rug can pull all the accent colors together, add pattern to a neutral color palette and even have the ability to soften hard edges in space. An area rug in a living room adds a real dash of personality and charm, but to find 'THE PERFECT ONE' is a bit tricky. When it comes to selecting that ideal area rug, think of the color and pattern because choosing a patterned rug is a great way to add color and interest to the living room.
When selecting the living room area rug, confirm it fits in the seating area by measuring the inches of the space. Spacejoy gives you five tips to choose that perfect living room rug:
1. Make sure the rug is on the correct scale for the living room.
2. The area rug will look splendid if it features at least two accent colors from the living room.
3. Choose a rug you have fallen in love with and ensure it makes your feet feel good.
4. Check the cleaning and maintenance of the rug, as it is essential for life-long use.
5. Color is more important than pattern, so focus on the right color to make your room feel finished. 
Here are 9 living room rug ideas that will fuel your inspiration to own that perfect rug today!
Beach Blue Rug for a Coastal Living Room
It is easy to bring the coast to the living room. All you need to do is choose a rug that appears airy with a tint of blues and neutral tones like gray, white, or beige. You can also choose a large living room rug that has stripes or geometric patterns in coastal colors. On the other hand, if you want to make your living room look beachy, select rugs that have motifs or symbols on them – like coral or starfish. Simple white and blue area rugs for the living room can bring in the coastal nautical vibe. Also, rugs made from natural materials like sisal are perfect for a coastal-themed living room.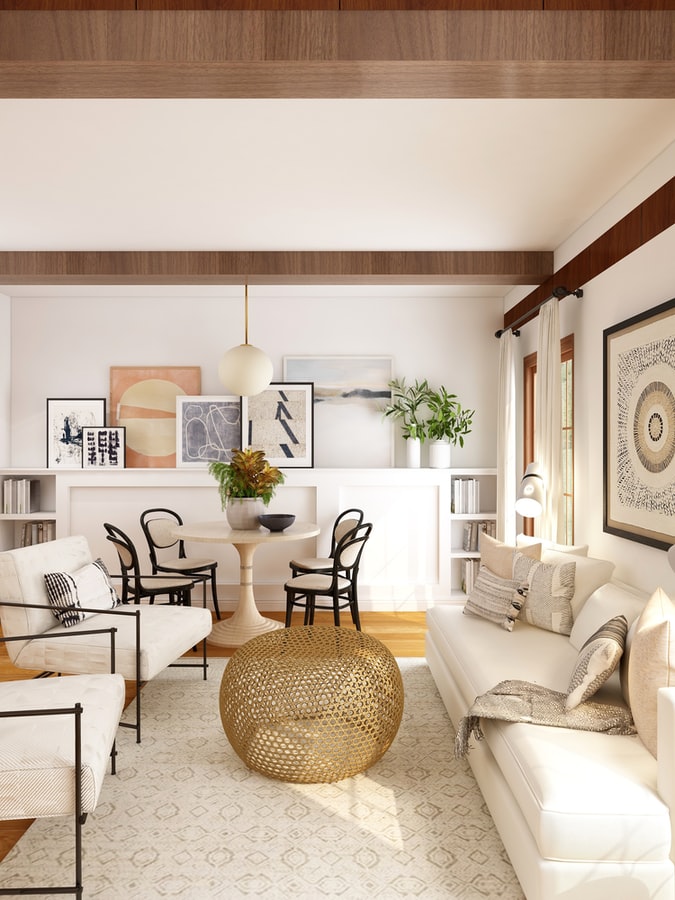 Bring in the boho Vibe to your Space
If you love the idea of boho but want to restrict colors in the living room, a simple yet elegant vibrant boho rug should do. Bright colors are easier on the eye when they're on the floor, so this is your chance to really indulge in a fun hue. While boho can be fun, and if you're game – opt for rugs that have motifs from nature like palm trees and flowers. We believe that the best rugs for the living room are Bohemian area rugs, which are artistic, consisting of intricate busy patterns. These rugs are often over-dyed, muted, or a blend of bright and subdued colors – the perfect element to start a conversation in the living room.
That Mid-century Area Rug
Who doesn't love the clean lines of mid-century modern decorating. In most mid-century living room designs, area rugs are the perfect place to include vibrant colors. With clean lines present in the space, bold colors, and simple geometric shapes, mid-century area rug designs are always in demand. In a mid-century design, colored furniture is often the focal point, so opt for an area rug that displays a bold pattern.
Let's Give the Dining and Living Room their Identity 
Open home designs often blend living and dining rooms to bring out a comfortable space. However, although tied together to perfection, these two spaces have to be given their own identity, and this is done with the help of an area rug.  Opting for a perfect dining room rug will create a unified yet unique look to the room and the living space. Color is the easiest way to tie your two spaces together — so choosing a shared color for each rug or different patterns in the same color can seal the deal. Remember, rugs in these two rooms should complement each other, and secondly, matching the size of the rug to the shape of the room is very important than comparing the dimensions between the rugs.
Say Hello to Natural Rugs 
Adding colorful rugs made from natural textile to space is like bringing life to a room. Natural patterned rugs draw a statement to the room and give rise to conversation starters. Not to forget, natural round rugs in a living room can help define the space allowing the rest of the accent pieces in the room to sparkle.  Sisal rugs are the best natural rugs since they are coarse, tightly woven, and the strongest of all-natural fiber rugs. They are considered a good choice for high traffic areas such as entryways and the living room space.
Gold Rugs Bring in a Sparkle
For many glam living rooms, adding an area rug with a hint of gold can do wonders to space. For starters, choose neutral grey patterned area rugs with warm gold hues if you have crisp white walls. For that vintage vibe, rust-red rugs with gold tints also work in living room spaces. However, if adding a gold hue rug to the living room, ensure that the rest of the décor is subtle and a neutral color palette.
Shag Rugs are Warm & Cozy
For that added warmth, cozy and textured feel to the living room, introduce a couple of shag rugs to space. If choosing a white shag rug for the living room, accentuate with jewel-tone pillows and ottomans that will pop against the upholstery and the shag carpet. For a better visual interest, opt for a flokati shag rug: it is handmade crafted from wool, and the best is they come dyed in any color, which allows you to choose a shade that will match the overall living room décor.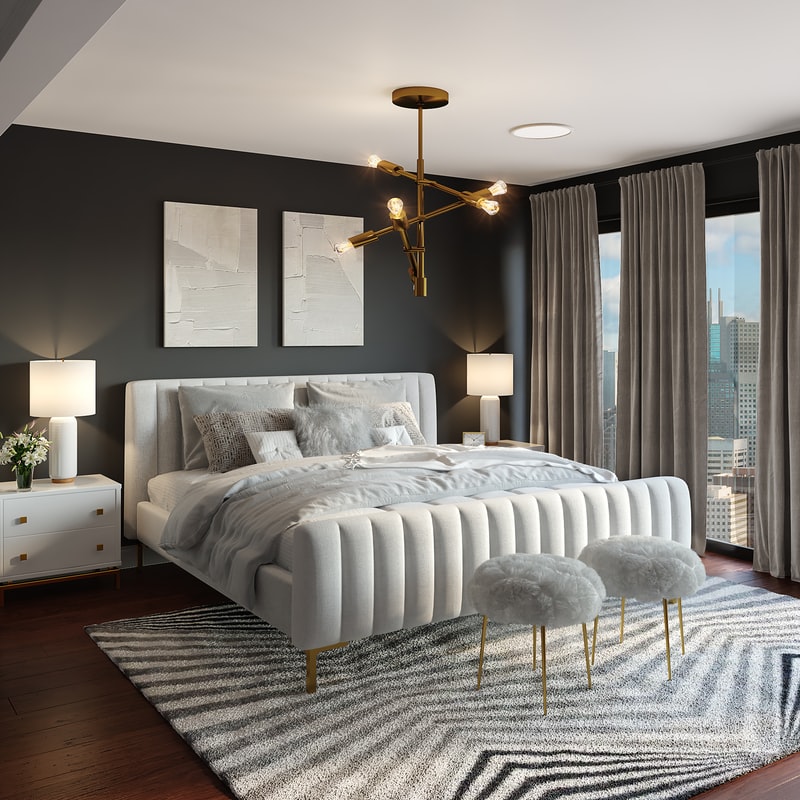 Nothing Beats Striped Rugs 
If you choose a small area rug, striped patterns are the perfect option, as they bring in an illusion of making space appear bigger. Striped rugs have lines that will add depth, the size of the stripes will add pizazz, and the stripes' width will add length to the room. For that ideal mix and whimsical touch to space, you can choose a rug that has stripes and ikat – the stripes combined with pattern and color will bring fun to the living room.
Braided Rugs are the Best 
For the living room, braided area rugs are simply the best as they come in various colors and patterns. You can opt for a solid braided rug to blend with the rest of the living room furniture, or choose a bright, colorful rug and pattern that becomes a focal point in the room. Braided area rugs are best for modern and traditional interior designs.