Decorating a tiny space can be a tricky task because it limits your design choices. Sometimes, you feel like you have to settle for just good enough. We're here to tell you that you don't have to settle — you can design the bathroom of your dreams, no matter how small it is. 
A small space gives you an opportunity to explore your creative side and experiment with something different. Here are a few ideas that will help you make the most of your available bathroom space and make it look bright and appealing. We also have more ideas for a trendy bathroom space here!
Use Mirrors in Different Ways
You don't need to be confined to normal conventions. For example, you don't need to mount a mirror solely above the sink. You can instead mirror the entire wall! The reflection of light gives an illusion of double space and makes the bathroom feel more open and brighter. If mirroring an entire wall isn't a practical option for your bathroom design, you can add multiple mirrors to one wall. To finish off the look, add a backlight behind the mirror(s) to really make the space feel more open. This way, you avoid using clunky sconces and casting unflattinger shadows by using ceiling lights.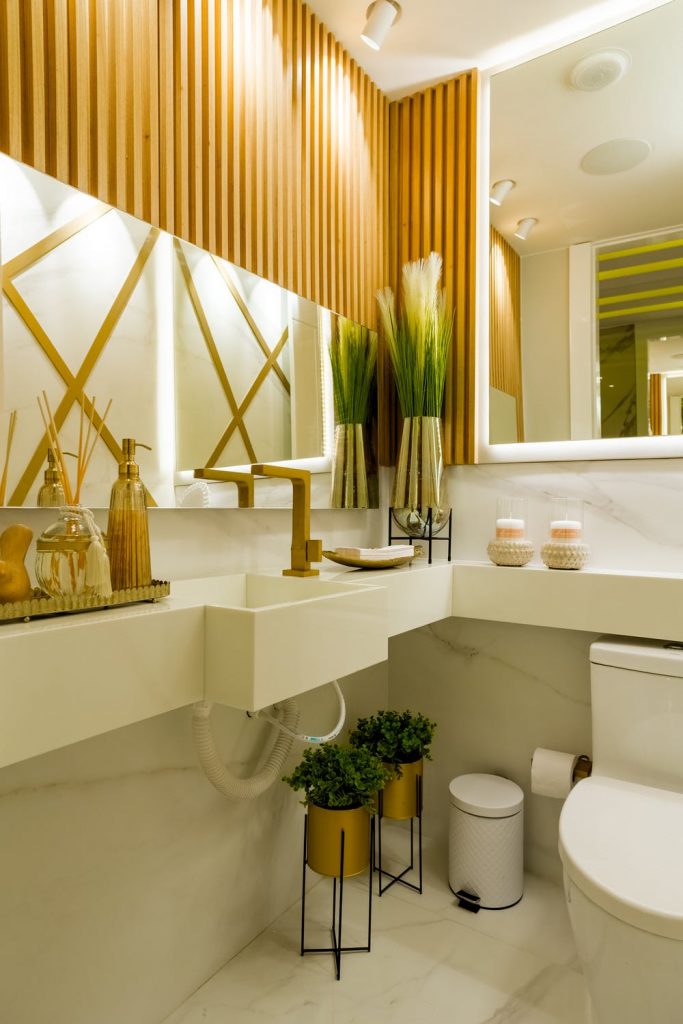 Be Smart with Bathroom Fixtures
Bathroom fittings and fixtures are like ornaments of your bathroom. They not only serve the purpose, but they also add personality to the space. If you are designing your small bathroom, consider installing compact or floating versions of toilets and sinks that don't take too much space. For example, a tiny corner sink and wall-mounted faucets are not only space-saving, but they also look elegant and are easier to clean. Wall-hung toilets are more modern and give an airy aesthetic to your bathroom. Bonus: they also make the floors a lot easier to clean!
Skip the Bathtub
Standard-sized tubs are really impractical in a small bathroom as they take up a lot of square footage. Instead, consider installing a beautiful glass shower as it helps to open up space and make it feel airy. You can add a standard shower, or one that takes up the exact footprint of the bathtub. The glass walls of a larger shower, with a dramatic tile wall surround in the back, could be the perfect statement for your small bathroom. This type of project isn't exactly a DIY job, though, so make sure you hire reputable plumbers to get it done right. 
Accentuate with a Wall Covering
High-quality wallpapers are strong enough to resist moisture and they can be used in bathrooms as well. A bright-colored vinyl wallpaper with floral or geometric patterns, preferably with large motifs, will make your bathroom look larger.
It will make the entire space come to life. Choose bold patterns over simpler ones for a dramatic effect. Sometimes, the results are really impressive with just a little bit of experimenting. Just be careful you don't overwhelm the space with too much color or too much wallpaper. One accent wall will get the job done just fine. If you're looking for ideas on how to match rugs with these wall accents, we've got you covered too with this blog.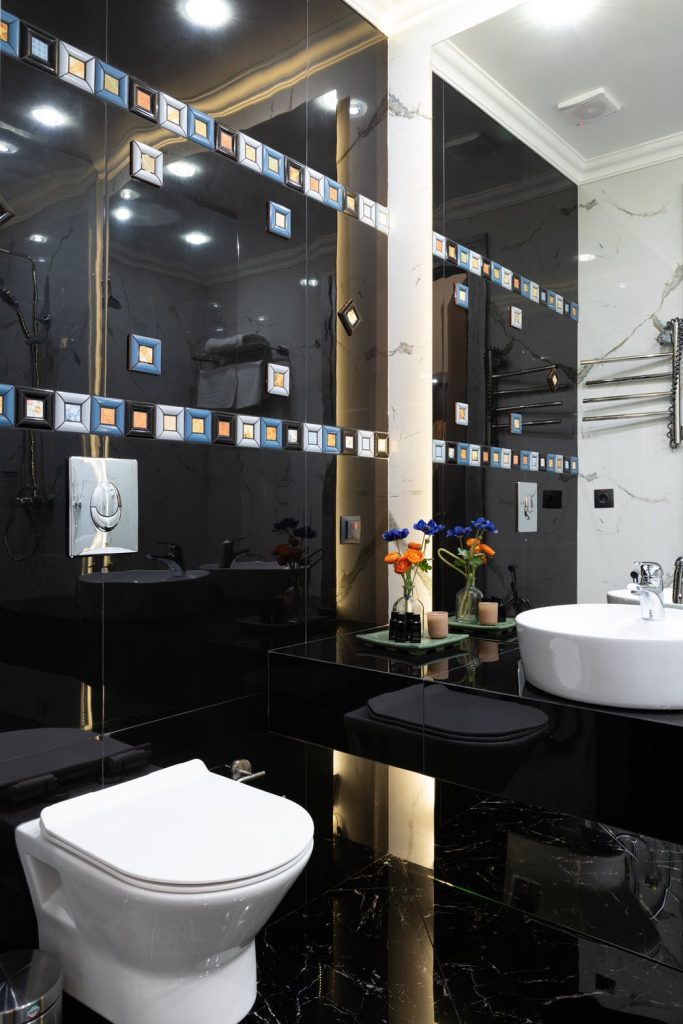 Invest in Floating Storage
Like with floating toilets and sinks, floating storage spaces can make your bathroom feel larger too. invest in floating storage or wall-mounted shelves to organize everything without cluttering the floor space.
Floating storage comes in many shapes and sizes. So, whether you need to store your spare hand towels, bath towels, soaps, bottles, or cosmetics, they can hold almost anything. When you have limited space, fill up the corners with these shelves to give an airy and light look to your tiny bathroom.
Not everyone can enjoy the luxury of a large bathroom. However, by using your own design instincts and clever tricks, you can really create a timeless bathroom that is functional, beautiful, and spacious.