Indoor-outdoor space has become a real premium as people practiced social distancing over the past two years, seeking social connection with strong airflow to prevent potential sharing of germs. Nowhere is this more possible than on covered or screened-in front porches, which offer some sanctuary from the elements but also the fresh air and comfort of the outdoors.
If you want to make the best "room" of your house that isn't really a room stand out, there are a few simple spruces that can really boost its appeal. You'd be surprised how much real estate agents recommend making the front porch a draw in 2022, especially if you plan on selling your home soon.
The Big Project: Expand or Build a Porch
If you don't have a porch already, or if you have a deck or patio in the back, you might be surprised that the front porch is experiencing a resurgence. If you can get an estimate on expanding a front stoop or front porch to make it more visitor-friendly or large, you may be surprised by how much value that adds to your home. People who have spent a lot of time distancing over the past few years are really valuing the option for spending time outdoors but with the comfort of being sheltered in some ways from the elements.
The Upgrade: Adding a Roof or Screen to Your Porch
If you've already got a porch or patio area out front, there are still updates you can do. Covered porches can be affordably screened in to add respite from mosquitos and more protection from wind and rain. Other patios only need a simple overhang and supports to become a covered porch, which is less work than a fully indoor addition to your home in many cases.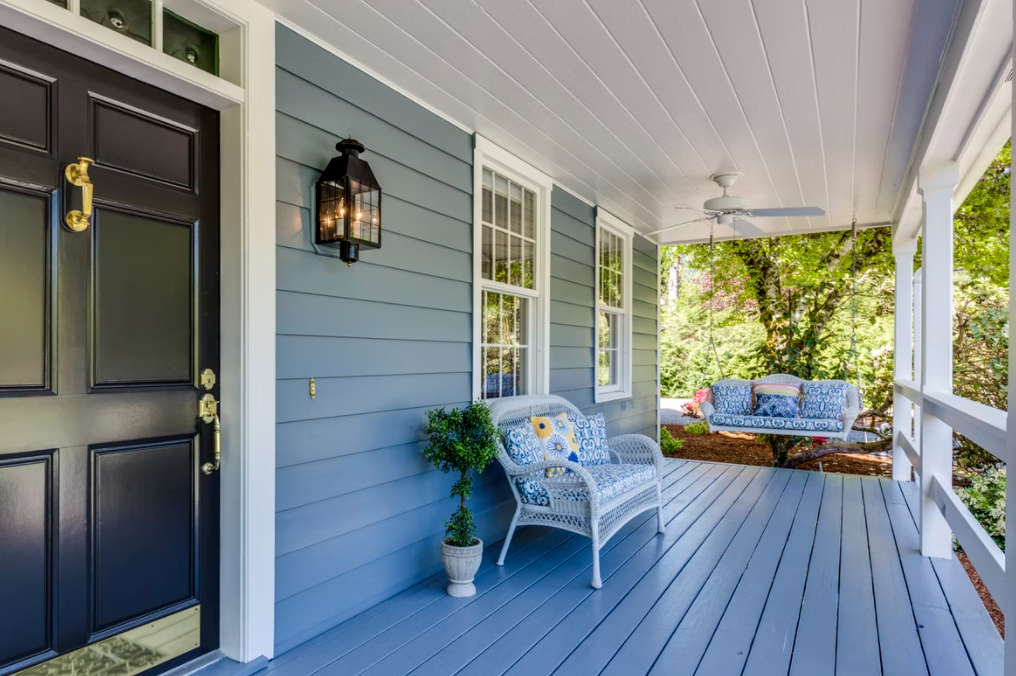 Make It Comfy: Update Furniture and Amenities on the Porch
If you've been neglecting the front porch, now is the time to find comfortable rocking chairs, wind-and-weather resistant seating and coffee tables, and other creature comforts like a bar cart or a lockable cabinet to hold games or other fun for the porch. Make the space the center of your home life by spending leisure time out there and having everything you need for a nice night in available at your fingertips. If you experience a lot of shifts in weather, a patio heater or box fan would be a welcome way to use the porch even in higher or lower temperatures.
Reach Out: Have People Over to the Porch
Once the porch is in great shape, the last step is to actually have gatherings there! It doesn't have to just be sitting around, though it can be: a cup of coffee with one neighbor or a live-music jam with everyone on your block are both good options. If you're considering selling your home, talk about how to host a friendly open house on the porch while individual prospective buyers tour the home indoors. Really putting the porch to use is the best way to make the most of your investment and draw focus to it during a sale process.