[mks_pullquote align="left" width="300″ size="24″ bg_color="#000000″ txt_color="#ffffff"]Follow my shopping spree at ZARA HOME for the Fall/Winter 2016 Collection.[/mks_pullquote]Over the weekend I hit up the mall and went straight to my favourite store of all time – ZARA HOME!
It was my first time checking out the Fall/Winter 2016 collection, and I it exceeded my expectations. ZARA HOME has some super affordable pieces worth investing in, so if you really love a piece then it's worth the money.
Dare to impress – ZARA HOME 2016 storefront window in Zagreb, Croatia. The storefront window is love at first sight! For their Fall/Winter 2016 collection, Zara Home has created a light and airy collection with white and gold tones that look polished all year round. The theme is a little french regency with a Moroccan twist.
[mks_pullquote align="left" width="300″ size="22″ bg_color="#997000″ txt_color="#ffffff"]Stunning and touchable texture is one of Zara Home's signature staples. If you want to achieve this look at home, make sure you're mixing and matching satins, woven fabrics, and furs! [/mks_pullquote]I love the gold cowhide rug placed casually under the bed. It's an all natural material and super easy to vacuum and move around. I checked out the bedsheets and they are satin or 100% Percale cotton sheets. I would definately recommend the quality for a soft good night's sleep.  My favourite bedding set in the store was the Gold Coral printed satin sheets featured in their window.
Dinner for two? Yes please! Create a room that you actually want to eat in.
Invest in a cutlery set or tablecloth that is stylish and eye catching. Tables capes are really easy to create when you've got the basics. This table features all white dishes with gold forks and knives and printed tablecloth. It's super easy yet looks beautiful. This tablecloth is called "Digital Print Satin Tablecloth" from the Zara Home website and can be bought with matching napkins.
It's all in the details! These feather accented pillows come in 4 amazing colours – brown, green, gold and pink!
I picked up the pink one for my own bedroom for only $29.90USD. These pillows can be used as an accent piece on your couch or bedroom. The Zara Home editorial used these pillows as chic backrest for their kitchen chairs.
Is your bathroom in desperate need of an update? Invest in some beautiful bathroom accessories!
Gorgeous nautical bathroom accessories is nude, gold, and white. The right bathroom accessories draw the eye away from the space and become the pivotal point in the room.  Even if you're working with a small bathroom or powder room, stylish bathroom accessories are a must for any decor diva.
[mks_pullquote align="left" width="300″ size="24″ bg_color="#b57800″ txt_color="#ffffff"]I cried of happiness when I saw these Zara Home gold coral soap dishes![/mks_pullquote] The texture and quality is amazing and they're really durable! Pair them with a textured cup for holding toothbrushes and some white or nude coloured towels for ultimate sophistication on a budget. You can get them online for $22.90USD.
For all the IKEA hack lovers out there! Stylish doorknobs in virtually any colour and shape you can imagine. I picked out these pink asymmetrical doorknobs that look like exotic rocks. I personally own a HEMNES dresser from IKEA that I will dress up with these pink doorknobs. A perfect idea if you don't have the money to buy new furniture.
The best thing about this store is they offer cute accessories that let you build on what you already own in your home.
The natural look of these decor pieces would be lovely with linen sheets and woven fabrics in gray and white.
This shelf was packed with frames, boxes, and vases that looked like a scene from an exotic marketplace. If you want a natural and relaxed look for your home, then these pieces would be lovely on a side table in a bedroom or living room.
Get THE LOOK from ZARA HOME Fall/Winter 2016
"Jacquard Satin Bedding"  $22.90-$149.00USD
"Coral Print Bedding"  $39.90 – $139.00USD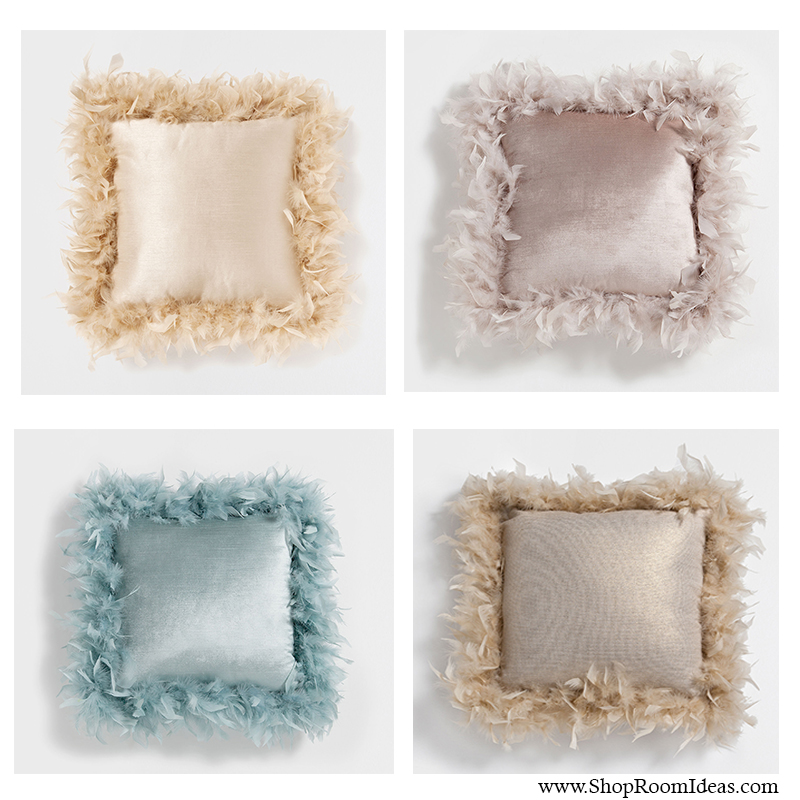 "Feather Pillow" $29.90USD
"Gold Coral Soap Dish" $22.90USD
"Embossed Golden Engraved Frame" $29.90USD