Renovating your bathroom for 2021? Here are some glamorous ideas to consider!
Renovating one's bathroom has become a fad these days. One reason for this trend is that people are getting busier in the bustle of their daily chores and desperately need someplace to get an escapade from this hassle. It is better to gather some bathroom renovation ideas before finalizing the plans. Several bathroom renovation agencies are operating in the city. Still, Select's bathroom renovations are among the best ones available in Australia, as it offers several inexpensive bathroom renovations that are a real bargain. The best bathroom renovations can be planned after getting the right price quotes and some knowledge regarding what will be the talk of the town in 2021.
Average Cost of Bathroom Renovations?
By the rule of thumb, larger bathrooms will have a higher cost because the cost centres mainly around the labour costs, materials installed, and quality of fittings added to space during the renovation. So, small space bathroom renovations are relatively cheaper than larger ones. On average, small space bathroom renovations cost between $5000-$15000; however, a larger one can cost you higher than $30000 even. The significant features that contribute to the bathroom renovations cost entail:
Plumbing; cost varies as per plumbers
Tiling; costs around $3.5 to $12 per square feet
Shower screen; costs around $400-$600
Toilet; cost around $150-$750
Vanity; cost around $467-$1360
Lighting; cost varies
How to do Bathroom Renovations?
Bathroom renovations involve specific procedures, and it is better to know them if one is planning to get their bathroom revamped. This will even help in estimating the cost, as it provides a clear-cut view.
Designing involves a 3D design or a detailed sketch planned beforehand to evaluate the cost estimates.
All old floor tiles and walls are to be stripped off when total bathroom renovations are planned.
A customer might decide to get his plumbing system changed, so it is vital to conduct such procedures at this point.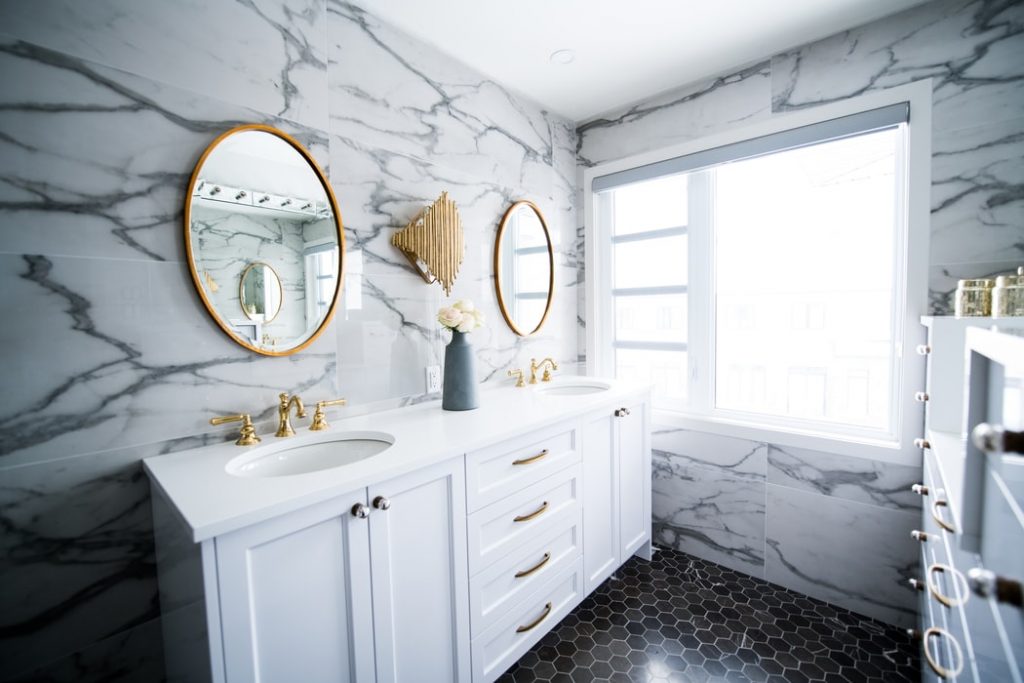 Rendering is essential as big chunks of the wall are often scraped off during stripping.
Waterproofing is done before tiling to ensure the bathroom does not contain any leakages and the foundations are sturdy.
Tiles are then laid as per the design that is selected in the beginning.
Once the tiles are laid, the vanity, bathtub, basin, tapware, and other fittings are installed to finish. All these procedures generally take up to 2-3 weeks, but this can take 6-8 weeks, depending upon the project's scale.
Wrapping it up – The Best Ideas for Bathroom Renovations in 2021?
There are several examples of bathroom renovations that are expected to top the market in 2021. One can revamp their bathroom's look totally by installing wooden tiles or marbles, as these materials will help create a more relaxing environment. Grey and white modern bathrooms are the ideal color choices; however, a blend of beige with white and unique green varieties with pastel shades can prove to be elegant picks. Moreover, organic and modern materials' combination can help redefine elegance. Along with this, installing a bathtub with hydro-massage or a stylish shower won't be wrong. Finally, one can place plants to add a final touch, as they will remain a fad.