A cozy living room is one of the essential parts of a home. After all, it is a haven you can settle into after an exhausting day. However, a living room can only be converted into a station for relaxation if all the elements come together to exude comfort.
Continue reading to discover all the top tricks to transform your living room into a cozy slumber space!
1. Layer Up Your Living Area
Scatter a few blankets and pillows strategically around your living room! That's the easiest hack to achieving a warm cozy living area within your home, and not enough people are utilizing this low-effort technique.
We recommend placing a comforter or soft cotton blanket on the couches and armchairs. You may agree that a comforter and cotton blanket are trademarks, yet very plain. This is why we recommend gathering various shapes and sizes of pillows and piling them onto your seating fixtures.
Homeowners should add an essence of personality to their room with different textures and luxurious fabrics. These fabrics may include but aren't limited to knit blankets, velvet pillows, and faux fur throw overs.
Lastly, don't forget to be innovative- befriend removable pillow covers and give your living room a low-cost makeover whenever you want!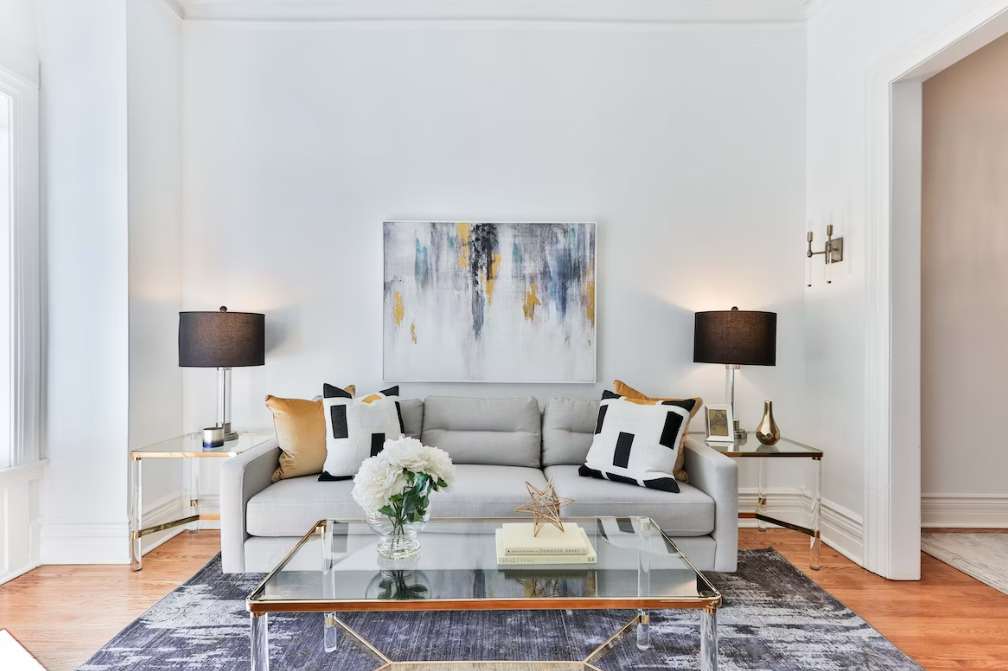 2. Upgrade to a Story-Tale Room
You can transform your living room into a storytelling room- and you won't even have to do any talking!
You can add personal touches to convey the adventures of your lifetime by displaying wholesome pictures of you and your loved ones. Therefore, create a photo gallery wall to make your room feel full and intimate.
It is preferred that you use a blend of both contemporary and timeless images. A quick tip from the pros- framing these images in slim black frames gives your room the perfect bougie look while maintaining its simplicity.
However, if you aren't one to put your personal life on display, don't worry; themed artworks have your living room's back (or should I say wall?)
You can achieve an intriguing accent wall by installing picture ledges and exhibiting various sized and colored photographs, paintings, and artworks!
The potential of using wall art to personalize and transform your living room is limitless!
3. Revamp the Fireplace
If you have a fireplace as a centerpiece in your living room, you're in for some delight because it will provide you with many opportunities to enhance the interior aura.
A dimly lit room oozes comfort into one's soul after a long day, not to mention the warmth that a lit fire provides is essential to allow you to nestle into your living room on a cold night.
Moreover, painting the fireplace a warm tone color that complements the other elements of the room can further enhance the ambiance of your room. Deep-moss green is often a popular color for painting the fireplace when your living room is bare and simplistic. Such a contrast draws attention to the fireplace and other architectural details.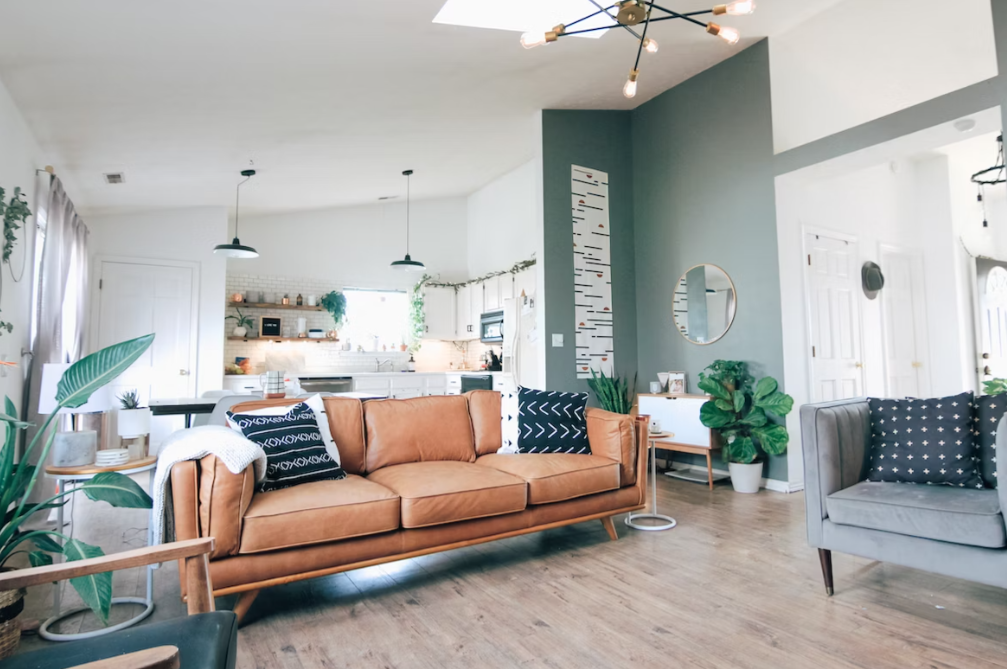 Caution
This fireplace can be a deal breaker or maker, depending on whether you maintain it well externally.
One essential element to be aware of is the chimney cap. This is because a chimney cap is essential as it prevents debris from blowing into your living room through the fireplace. Furthermore, it prevents rodents and wild animals from breaking into your home through this unconventional entrance and shields your home from water damage.
Therefore, make sure to have a close peak at your chimney and ensure the cap has not broken away. If it is missing or damaged, make sure to reinstall it while making sure you get the correct chimney cap sizes for it to be perfectly functional.
4) Green and Gleeful
A touch of green in your living area will bring an outdoorsy element to your space and refresh you. An added bonus is that indoor plants give your living space a balanced organic vibe and create a relaxed atmosphere.
If you are fond of nature and want to blend in a tropical theme, you can opt for large indoor and leafy plants. However, choose succulents and cacti to add a minimal amount of green.
Succulents and cacti are ideal if you reside in an area with an arid climate and sunny weather. If you lead a busy lifestyle, you'll be glad to know they do not need to be watered often to bloom.
If your room does not have space for pots and plant baskets, you can take advantage of the walls and ceilings to hang them in stylish bowls and containers.
Aside from the aesthetic advantage of indoor plants, a 2015 study shows that plants may reduce psychological and physiological stress. Therefore, incorporating plants in your space will benefit you internally!
A Last Top Tip!
When implementing these four techniques to convert your living area into a cozy slumber space, you should always incorporate your taste regardless of what is 'trendy.' After all, it is your space to wind down, and you must approve of the decor and design and feel comfortable.