Organizing your beauty products will help you create not only a more efficient beauty routine, but it will help you use up your products before they expire.
Did you know? The average American woman owns 40 beauty products and uses at least five of those every single day. If you even have half that many products, from your every day to the once-in-a-while products, you're going to need some organizational help!
Other than makeup and skin care products, taking care of your styling tools is also a must. In order to last as long as possible, you'll need to carefully store, clean, and maintain everything from your hairbrush to your flatiron. Having the right organizational setup can make this a lot easier.
Drawer Dividers
Drawer dividers are a must. Even if your drawers have large built-in slots, adding a divider specifically for small items, like nail polish, makeup pots, or brushes, can make finding what you need take seconds, not minutes. By keeping your drawers optimized, you can keep your countertops free, knowing that whenever you need something, you know exactly which drawer and slot it's in.
Bathtub Caddy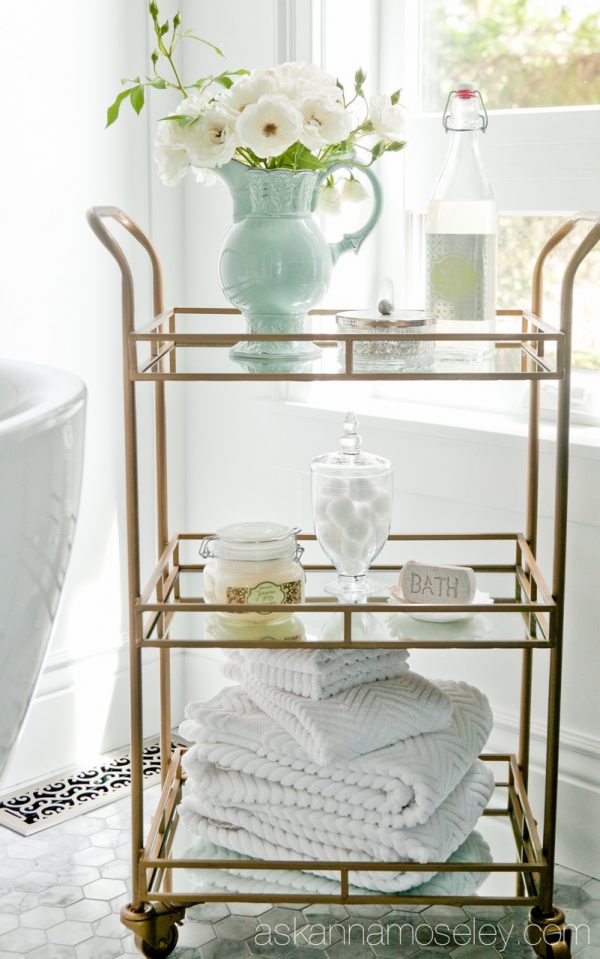 If you don't have a bathtub caddy, and you have a bathtub, this is something you need to invest in. Bathtub caddies serve a multitude of functions. Best of all, they provide storage space for tubs that don't have a wide rim. Or, if you tub does have that rim, they prevent stains and rings by giving you a designated place to put soaps and bottles. Then, if you're in the path, a caddy can keep everything you need to enjoy your soak within arm's reach but up out of the water and off of a slippery ledge.
There are two types of bathtub caddies. The most common type sits across the tub, like the wire version picture above. The less common type is typically made out of a water-resistant material or has a water-resistant coating and drapes over the edge of the tub, creating a pocket on the outside wall. Both of these options can hold everything from bath salts to soaps and scrubs.
Use a Cooling Basket for Styling Tools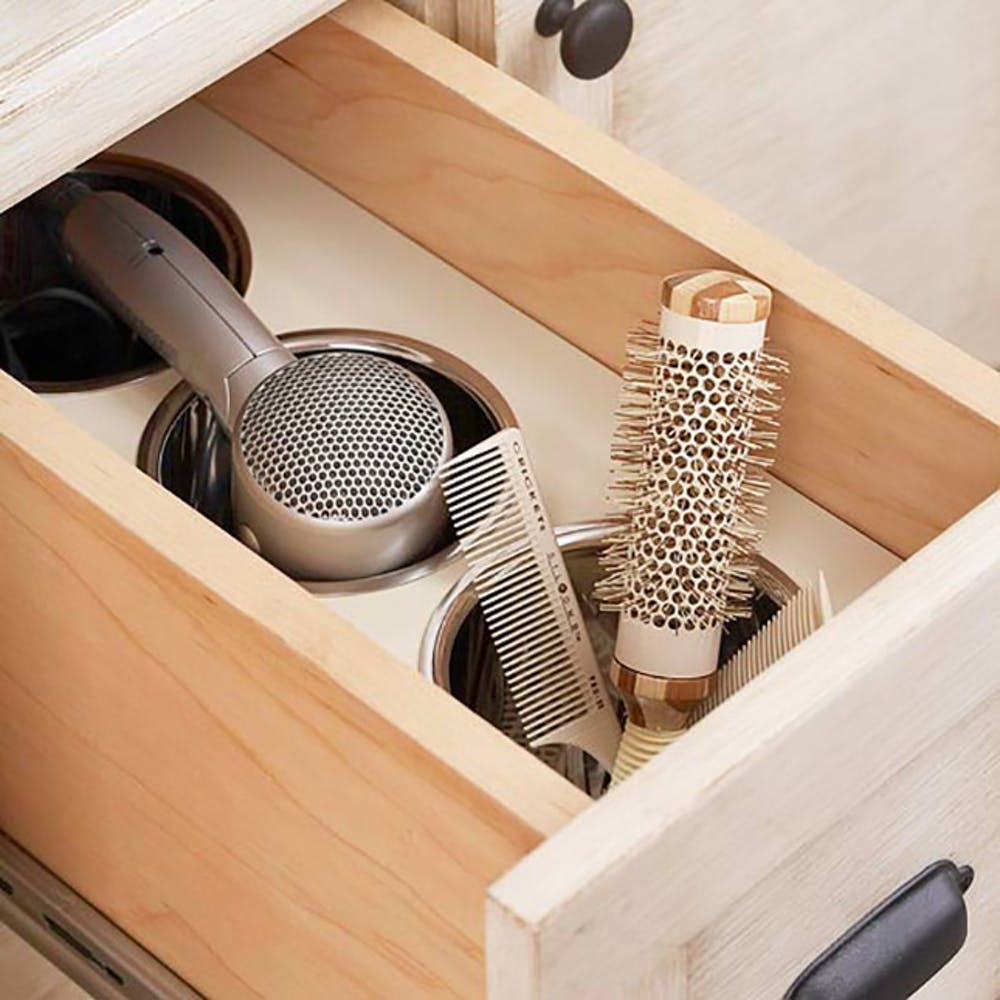 Cooling baskets come in all shapes and sizes- they can sit under a sink, in a linen cabinet, off the edge of a counter, or on a counter. They're perfect for holding your styling tools, like this travel-size flat iron, which helps it cool down in a safe space. When you don't have to wait 20 minutes for your blow dryer or curling iron to cool down and then end up forgetting to put it away, your bathroom stays neater.
Store and Sterilize Your Brushes at the Same Time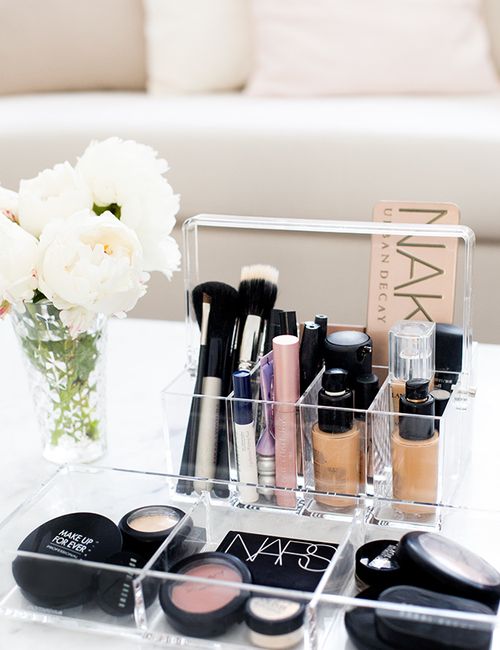 You know you need to clean your brushes, but doing so can be a real pain. Not only does the cleaning process itself seem to go on forever, but makeup brushes, especially top-notch ones, take forever to dry. This is why you need a brush case that both dries and sanitizes at the same time. Though there aren't many options now, anyone with sensitive skin may want to consider the investment as cleaner brushes can help prevent breakouts.
Pre-Pack A To-Go Kit
Sometimes your bathroom disorganization could be all due to the need for duplicates. Sure, you could stash them in a bin under the sink, but that just makes it harder to grab what you need if you're taking a last minute trip or planning an impromptu overnight.
To cut down on this type of "essential" clutter, pre-pack your to-go kit and store it out of sight. Having a designated bag rather than a plastic bag or catch-all case will make things considerably less stressful when you've got to pack up and go. But what about the things you don't have duplicates of? You can't pack you flatiron away every day. What you can do, however, is have a designated travel-size flat iron to take with you when you're on the go.
Use Your Shower Walls, Not Just the Shower Head Mount
Maybe you've tried a shower organizer before, the kind that sits over the shower head and slips off at least once a month. Or one with suction cups. There are better options for all showers. If you have a shower with a flat bottom, you can try a caddy that sits in the corner and holds all of your water-proof shower supplies. Alternatively, there are a few options that sit on the shower curtain rod, behind the curtain and nearly invisible outside of the shower.
No matter how many products you have in your shower, there's an organizer to suit your needs and keep clutter off of your tub edges and bottles off of the shower floor.
Anything Else? Use Easy Access Jars and Cups
An organizer doesn't have to be complicated. It can be a simple set of cups or jars, just make sure that you keep only like items together and only have out what you need. Backup and duplicates should always be stored away.
Finding the right decorative organizers for your needs doesn't have to be difficult, however, as this is for a bathroom, try to stick with glass, plastic, or another material that can get damp and be sterilized. Bathrooms are humid places. Metal rusts and wood warps without proper, constant care. The key to staying organized is to make it easy.