Get your home on trend with these affordable ideas that will have you saying "Wow!"
Let's be realistic. Even if we won the jackpot lottery tomorrow, there's still nothing like finding a good deal and saving money! 2018 has brought us bold and forward trends that are quickly changing and evolving. If you're trying to catch up (like we are) then check out our 5 budget-friendly ideas that will help you keep up with the hottest trends of 2018.
California Dreamin'
Capturing the essence of the laid-back Golden State, known for it's innovation and sexy sophistication, doesn't have to come with a hefty price tag. The Californian design aesthetic is casual, relaxed, and organic. The state's signature eclectic decorating is easy to achieve. Watch out for furniture pieces made of age-worn leather, such as a side chair or even a full sofa, to add a comfort and sense of wisdom to a room. Want the look? Choose stunning statement furniture that is bold and versatile with neutral colors such as greys and creams. Minimalistic palettes of white tones against a backdrop of navy blue or green have been all the range with our trendy Californian counterparts.
Don't forget to pick up some greenery for your California-inspired space like a Banana plant, or the beautiful 'Birds of Paradise" plant, a similar alternative that is much hardier and easier to grow. Greenery ads an organic, refreshing flair to any space.  Not in the mood for babysitting plants? Go with a rubber plant or a rubber palm leaves that look just as chic.
Grown-Up Pink
If you're looking for color, pink has taken on a life of it's own since Rose Quartz was named color of the year in 2016. A dash of va va voom never did harm to any trendy homeowner! Experts recommend going for a subtle, rose pink in lighter shades. Our recommendation? Tufted headboards in pale pink have been all the rage in the last year. We recommend matching pink with anything wood such as hardwood floors, furniture, coffee tables, and shelving. It also looks beautiful with the sleek lines found in mid-century style.
White and Gold Coffee Tables
Haven't you heard? Every "it" designer on the planet has decorated a space with luxurious gold and white coffee table so far in 2018. Unlike our previous obsession with copper, brass, and rose gold, designers have turned to gold but are exhibiting it with a modest sense of opulence. Choose a statement piece with gold accents, to avoid overpowering the room. At the end of the day, coffee table are so much more than a place to set down your bowl of chips and a drink. As a centrepiece, they have the power to set the vibe for the entire room. Make sure you choose a stylish piece that can pull together a room. Simple, easy, and anyone can do it!
Printable Wall Art
Artwork: beautiful? Yes. Pricey? Of course. Thankfully, one of the hottest trends to come out the gate in 2018 is printable, DIY wall art. No need to crack open the piggy bank for statement art and framed photos ever again! Printable art can be found at affordable online or even free on Pinterest. Just print at home, or at your local print shop, and frame away!  Not only is it a great idea, but it leaves your budget open to spend on higher ticket items, like sofas, tables, and chairs.
The Chic French Girl Mirror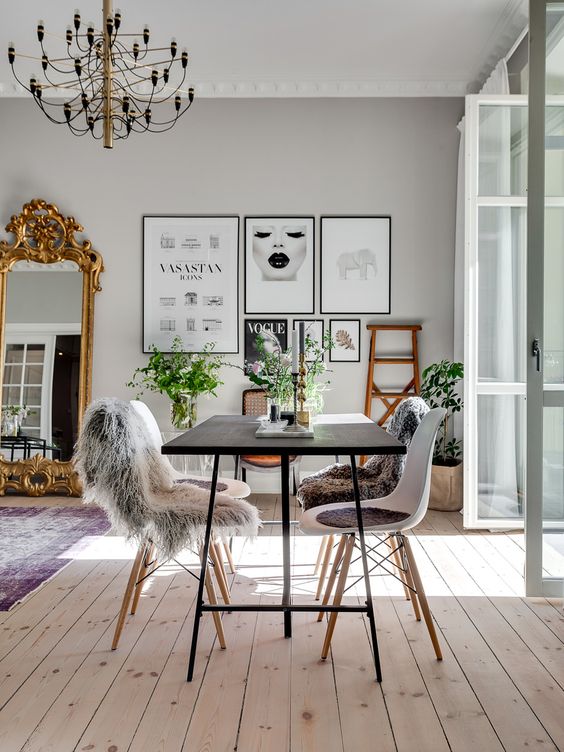 These Parisian mirrors are so elegant, they'll have you booking your flight to Paris on an hunt for more vintage trinkets to go along with it. They've been seen everywhere from Instagram to Pinterest, all emulating the effortless "French girl" style that seems totally easy to achieve. They're perfect for layering or leaning on a fireplace, floor, or dresser, like you casually picked it up at the local flea market in Paris.