A bathroom renovation will require proper planning if you want to get the best results. To ensure that your project runs smoothly, you must clearly understand what to expect and organize.
Bathroom renovations are a low-cost way to boost the overall value of your home, especially if you plan to sell in the future. Additionally, improving the space will ensure that you have a welcoming yet functional retreat to perform your self-care routines in the morning or before bed.
Planning a bathroom renovation is an undertaking that requires proper planning, whether it involves a minor or a complete overhaul, especially when there are major revisions in plumbing or electrical elements. In such cases, working with professionals such as a reputable local plumber would ensure a good start.
If you want a good outcome for your bathroom renovation, consider the following things during the planning stage.
1. Measure The Size Of Your Bathroom
Before you begin your bathroom renovation project, you should first determine the dimensions by measuring everything twice.
One of the typical blunders in renovation projects is not ordering enough tiles, resulting in delays, especially if the tiles you want are no longer available. So, make it a priority to carefully calculate the wall and floor area separately and allow a minimum of 10% extra for wastage.
Don't forget to consider some key measurements, such as the size of your bathtub and the amount of space necessary for your toilet. Doing so will greatly help you plan the ideal layout of your renovation project.
2. Examine Your Finances
Even if you can find average bathroom remodeling costs in your area, each project is different. The amount you'll likely spend will vary depending on the size of your bathroom, the scale of the project, and the overall quality of the materials you'll use. Before starting the project, you should ponder what you can spend and ask for estimates from several reputable contractors. Be sure that your upcoming project has realistic expectations.
3. Determine The Level Of Insurance Protection
When selecting a contractor to handle a bathroom renovation project, ask for proof of insurance. Contractors must have personal liability, workers' compensation, and property damage insurance, among other things.
You should make an effort to screen select contractors for the renovation project and ask for written proposals that should include estimates and projected dates. Double-check to make sure that the contractor's insurance covers all aspects of your renovation project. 
4. Choose A Color Scheme And Style
If you want to refresh the ambiance of your bathroom, start with the tile colors and work your way from there. It's best to go for at least three colors, with primary, secondary, and accent shades. Light colors like cream, white, or light gray are good options if you want your bathroom to feel more spacious and inviting.
When it's your first time tackling a bathroom renovation project, it's best to follow the 60-30-10 rule. Generally, the primary color comprises 60% of the space, and the secondary color is 30%. As for the accent color, it's only 10%. For example, you can go for white cabinets and walls as the main color, gray for the flooring and countertops as the secondary, and black accessories and taps as the accent.
5. Identify The Location Of The Water And Electrical Lines  
In a major bathroom overhaul, you should identify the current electrical wires and plumbing sites. Keep the wires and plumbing in their current locations and work on your design around them to avoid a costly project. You should immediately determine if you need to redirect water or electricity while planning the layout.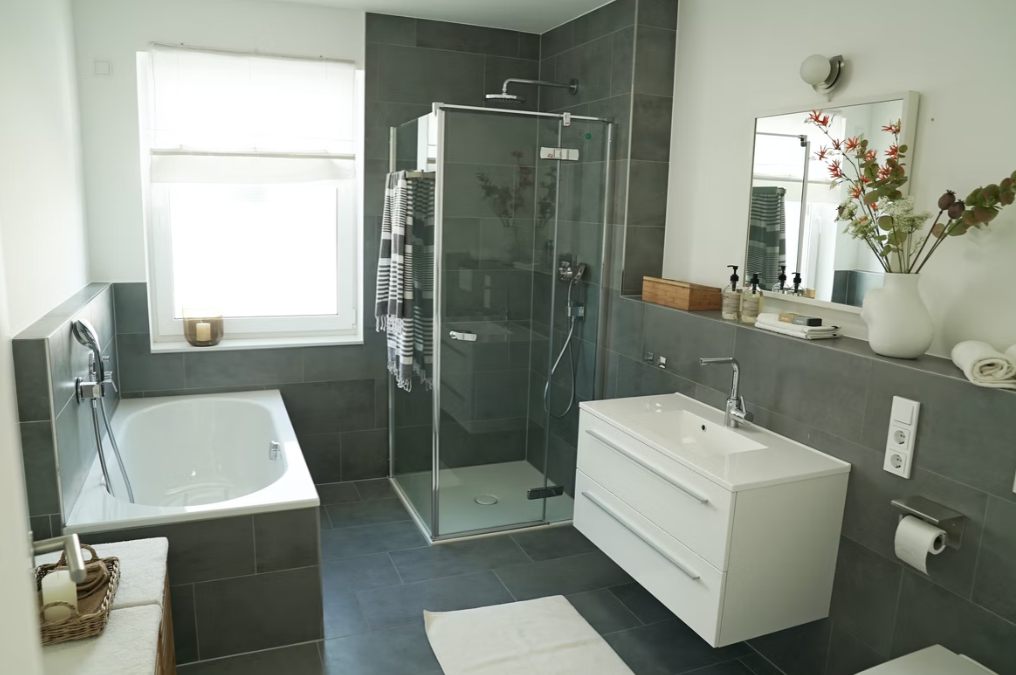 6. Incorporate The Right Lighting  
When selecting new lighting for your bathroom, consider LED, halogen, or daylight fluorescent if you want to create a natural ambiance. If you want the ideal space, try to layer the lighting with task lighting along with accent, ambient, and decorative lighting to illuminate the space well and eliminate any unflattering shadows.
7. Determine The Best Options For Ventilation
A bathroom requires proper ventilation to prevent the development of mold. Eliminating moisture is one of the most efficient ways to reduce the risk of mold growth. A recommended approach is to go with a multifaceted approach by utilizing an exhaust fan venting the air outside and a window you can open and close when necessary.
Final Thoughts  
A bathroom renovation project can boost the value of your property while ensuring you have an inviting and functional space. Working with a professional and understanding a few key considerations before, during, and after your bathroom renovation project will ensure its success.