Are you in love with the velvet sofa trend, but you're not sure which type of sofa to buy?
With so many daring and mouth-watering velvet couches on the market, we help you match your personality to the perfect velvet couch of your dreams!
If you're a Boho-Girl Deep Down: Pick The Tuxedo Sofa
[mks_pullquote align="left" width="300″ size="24″ bg_color="#03657c" txt_color="#ffffff"]The Tuxedo Sofa is a style made popular in the 1920's (which is exactly why any Bohemian gal would want it!). [/mks_pullquote]If you're wild at heart with a taste for patterns and a fruitful mix of colors, then we recommend a teal or indigo Tuxedo Sofa! A tuxedo sofa has a boxy shape with the arms the same height as the back of the couch. The great thing about a tuxedo sofa is it's tailored appearance that is beautifully offset with Bohemian patterns and more laid-back decor. The back height of the couch is great for draping blankets and arranging large, Bohemian style pillows in different shapes and sizes.
Mixing modern and mid-century pieces with Bohemian accents is also trending right now. Remember your home is a reflection of you, so don't be afraid to play with different styles and pieces! 
Get The Look! Tuxedo Sofas

If you're Girly and Single: A Tufted Velvet Sofa 
Gray is a cute neutral that can transition with you throughout different stages of your life
If you're looking for a velvet sofa that makes a statement but is also feminine, then a tufted Chesterfield sofa is perfect for you! Since a couch is a large investment, go with a gray velvet fabric that can easily be played up with different colors. If you're looking to switch up your decorating style one day, grey velvet is extremely versatile. Plus, the old-world feel of a Chesterfield plays really well with modern elements, like these Mid-Century armchairs and beige-striped wallpaper.
Mid-Century Modern Classics

Cotton Candy Velvet Sofas

For The Daredevil: Go With A Dramatic Loveseat
Do you live on the wild side with a tendency to change your wall color every 2 months? Are you jumping on those new skull-pattern trends and DIY glitter projects off Pinterest? 
If you find yourself in that sentence at all, you need a bold and moody velvet love seat for extra drama. Love seats are not too large, and can be a great hangout spot for you to brainstorm all your new ideas.They can also be placed in a bedroom, den, or library due to their smaller size.
Dark and Moody Love Seats

If You Have A Family : 3-Seater Is Your Friend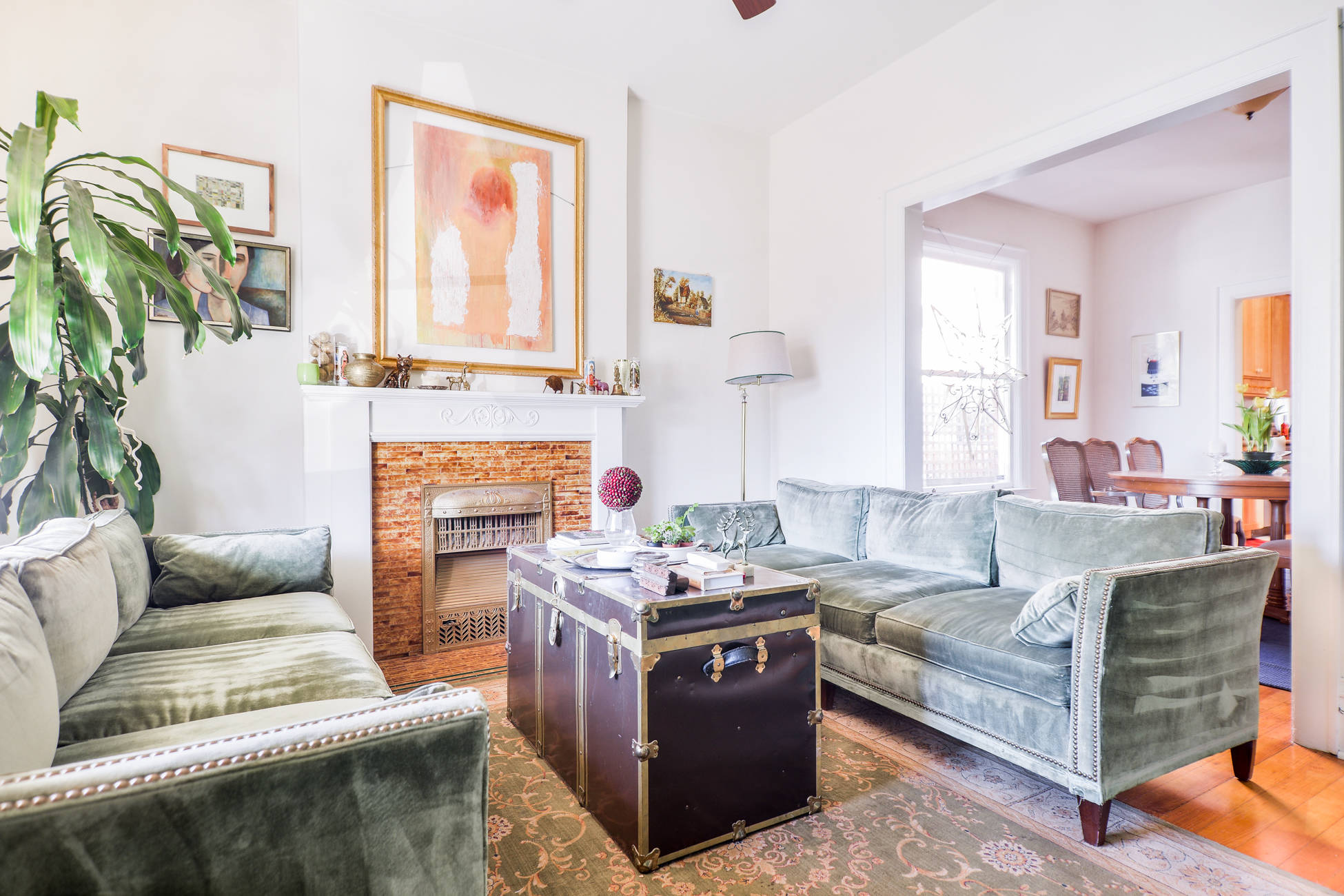 [mks_pullquote align="left" width="300″ size="24″ bg_color="#39baa9″ txt_color="#ffffff"]Sometimes it's great to choose gender neutral colors that can make everyone happy. [/mks_pullquote]For those of you with families or male dominated households, go with a 3-seater velvet sofa in a neutral color. This neutral green set would compliment any family perfectly. If you buy a set of 2, they're perfect for the kids to hang out, entertaining, and relaxing. I love how they both match and restore balance to this living room.
Family Friendly 3-Seater Sofas