Did you know women spend an average of 3,276 hours or 136 days in their lifetime getting ready and pampering for a night out? SHOCKER!
Poudreuse, the French word for dressing table or vanity, came about at the end of the 17th century as a space for women to do their makeup and accessorize their outfits with jewelry. If you're going to spend 136 days of your life getting ready, then a POUDREUSE is a must-have in your home (show your husband this article; he will understand).
So here are some gorgeous photos I've come up with of vanity tables in different colors and styles for you guys to feast your eyes on.
1. The All Black Dressing Room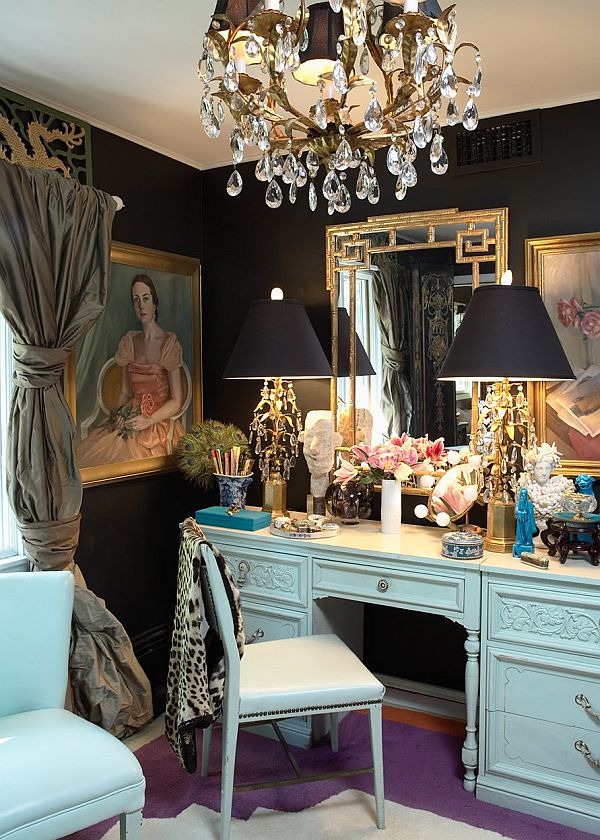 If you ever see those fashionable Instagram women with thousands of followers, you'll notice they have their own space where they take most of their beauty shots. Most of the time they have a corner of their room with a vanity table and dressing area dedicated to makeup, hair, and glam. Consider creating your own corner in the bedroom dedicated to making yourself feel beautiful. In this shot I love the idea of black walls with gold accents and a white vanity. The light and dark combination gives it a romantic and exciting sense glamour.
Shop The Room:
2. The Simple and Affordable Vanity Table
If you're looking for an affordable version of a vanity table, you can opt for a chic clear dressing table with a glass top. These are not expensive, and they don't look bulgy in a bedroom. You can tuck it in the corner with a cute mirror and use it for every day glam sessions like before you head out to work. If you have an empty corner of your bedroom that you don't know how to decorate or what to do with, a vanity table is a chic, affordable and useful way to fill up that space!
Shop The Room:
3. The White, Gold, and Taupe Dressing Table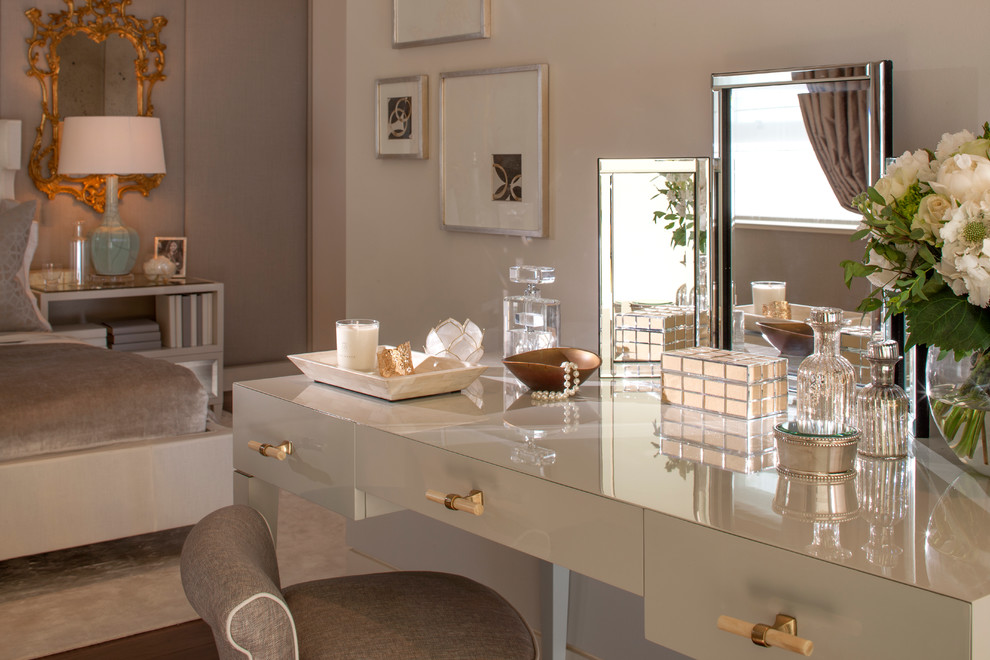 This vanity table is more of a small desk, with glass top and vanity style mirror you can buy separately. If you already have a desk, then adding a 3-fold mirror can easily transform it from desk to dressing table. A neutral palette of taupe, gold and white is sexy and modern. Accessorize with flowers and perfume bottles to create a stylish and relaxing atmosphere that will make even your husband jealous.
Shop The Room: