If you're a girly-girl at heart and have always dreamed of having a princess-themed bedroom as a kid, we have good news for you. It's never too late to live like a princess!
For all the single ladies out there – if you don't have a man then you can definitely get away with glamming up your bedroom with some princess-style furniture and bedding. This space is your own personal sanctuary, so why not own it and enjoy it?
Step 1: Use Gold Accent Pieces to Embellish
To achieve a girly royal bedroom you need to keep one key color in mind: GOLD! You don't have to overdo it with tons of gold furniture, but you need a few accent pieces to make it look rich. There are so many beautiful elegant master bedroom designs that integrate stunning gold details to create the ultimate bedroom oasis. This Las Vegas home designed by Tara Dudley Interiors has the perfect amount – notice the gold embellishments on the curtains? The satin gold throw on the bed and the lighting create a yellow warmth in the room so you can get the beauty sleep you really need.
If I'm correct the bedding is from Donna Karan Home, and the wallpaper is from Pelican Prints.
Get the Look! Las Vegas Dream Bedroom

Step 2: Don't Be Afraid to Use Pink In The Bedroom!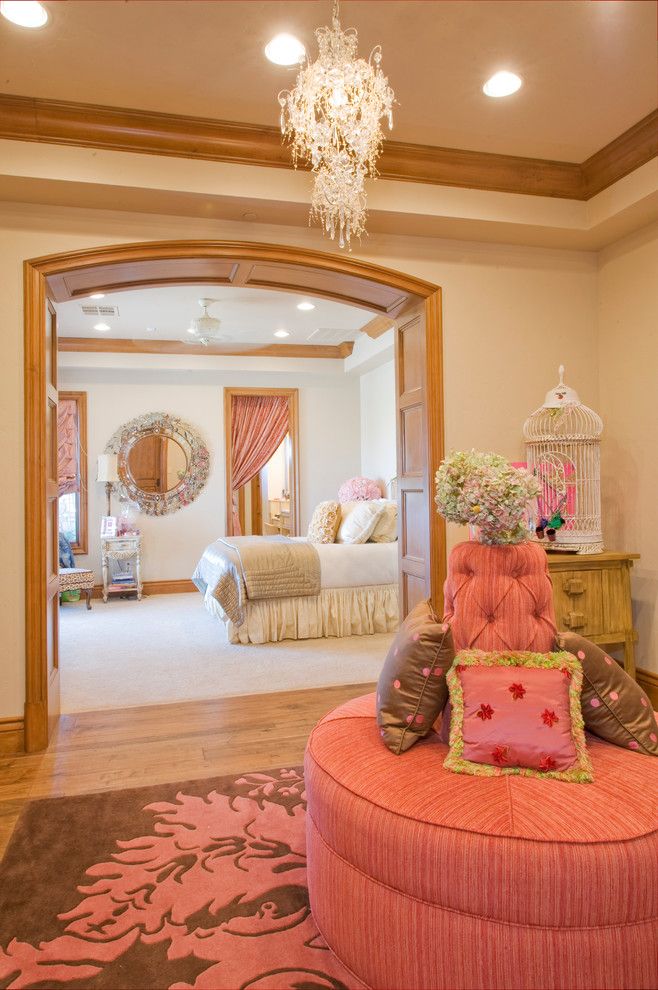 Pink can be a grown-up color if used wisely when decorating an adult bedroom. My suggestion is go with mocha, cream, or honey tones to match. You can choose one accent wall to be the pink focus, or an extravagant piece of pink furniture or bedding. This color is definitely girly but it also energizes a space and lets your guests know you have a passion for life and the unknown!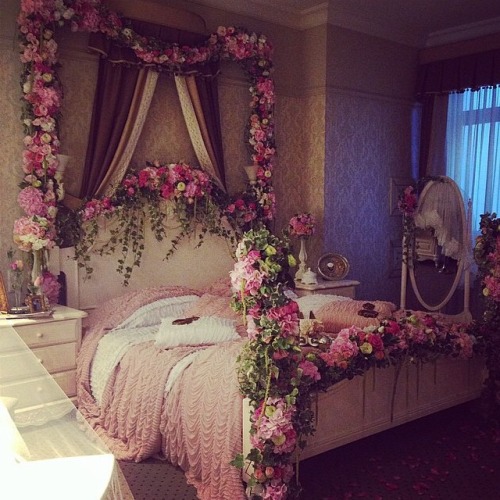 Don't be afraid to get creative when designing your pink oasis! Remember: It's all about you and your own style.
This wild pink bedroom combines pink walls, curtains. and a Mongolian lamb fur blanket! When decorating your girly bedroom, remember it's all about what YOU want! If you want to go for the pink bedroom, you could always tone down this look with white curtains and walls and just have the pink sheepskin bedding.
Step 3: Go for a Queen or King Sized Bed Only!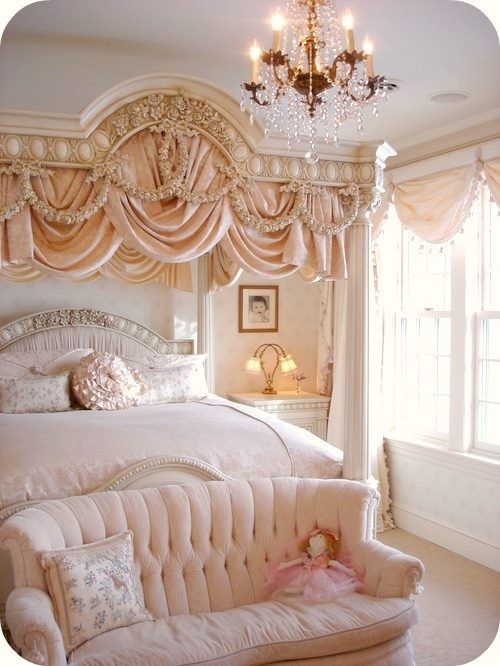 Nothing says childish like a twin-sized bed in a girly bedroom. You need to have a full-sized queen or king bed that looks modern and sophisticated. Choose bedding in solid colors only, because anything with floral or patterned prints is very child-like. Combine different shades of white, such as creams, light yellows, and bright whites, to give your bedroom's colour palette an airy feel and character. The best way to do it? Choose a throw, headboard, or accent with pillows in these colours.
Shop It! Versailles Style Girly Bedroom

Step 4: Combine Metallic Bedrooms With Glass and Clear Accents
Soft pink hues are a perfect match with gentle and subdued metallics, because it's  grown up and feminine! If you don't want to go full-out with pink walls, pick a wallpaper that has soft hues of pink like this feather-print wallpaper.
Secret Tip For Designing a Pink Bedroom: Instead of using white furniture (which is the worst pairing with pink, in my opinion), choose a bed with a mirrored headboard, or ghost furniture like clear, PVC side tables and ghost chairs. It's an alternative to classic white furniture that may seem outdated and childish. Another great colour combo? Silver, cream white, and leopard print, which is combined in the bedding featured in this pink bedroom.