[mks_pullquote align="left" width="300″ size="24″ bg_color="#000000″ txt_color="#ffffff"]Small bathrooms are an awesome way to put your design talents to the challenge! These cute small spaces offer plenty of room for added character and style. [/mks_pullquote]
Changing the appearance of your bathroom is a major challenge! Complete renovation is sometimes the only logical and acceptable solution, whether we like to admit it or not. Before embarking on your renovation, it's important to choose decorating components that you love and that will also meet the daily needs of your family.
For all the small bathroom owners out there, here are 8 mind blowing makeover inspirations to inspire your next project.
1. Before: The Downright Embarrassing Bathroom
After years of use, your bathroom may be showing signs of age. Dirty grout, a leaking toilet, and caulking that seems to separate from the tile are all signs of an urgent renovation.
After: A Calm Country Oasis
DESIGN TIP: Create storage space in your small bathroom with chic shelving placed above the toilet. You can find baskets at IKEA to hold your toiletries. Baskets or containers keep your stuff clean and sanitary from the germs and also look stylish!
An insanely impressive renovation, this new bathroom takes advantage of natural light to give the effect of a larger space. Octagon tiles are extremely popular for bathrooms because the illusion of a small pattern makes the floor appear larger.
2. Before: Dark and Dated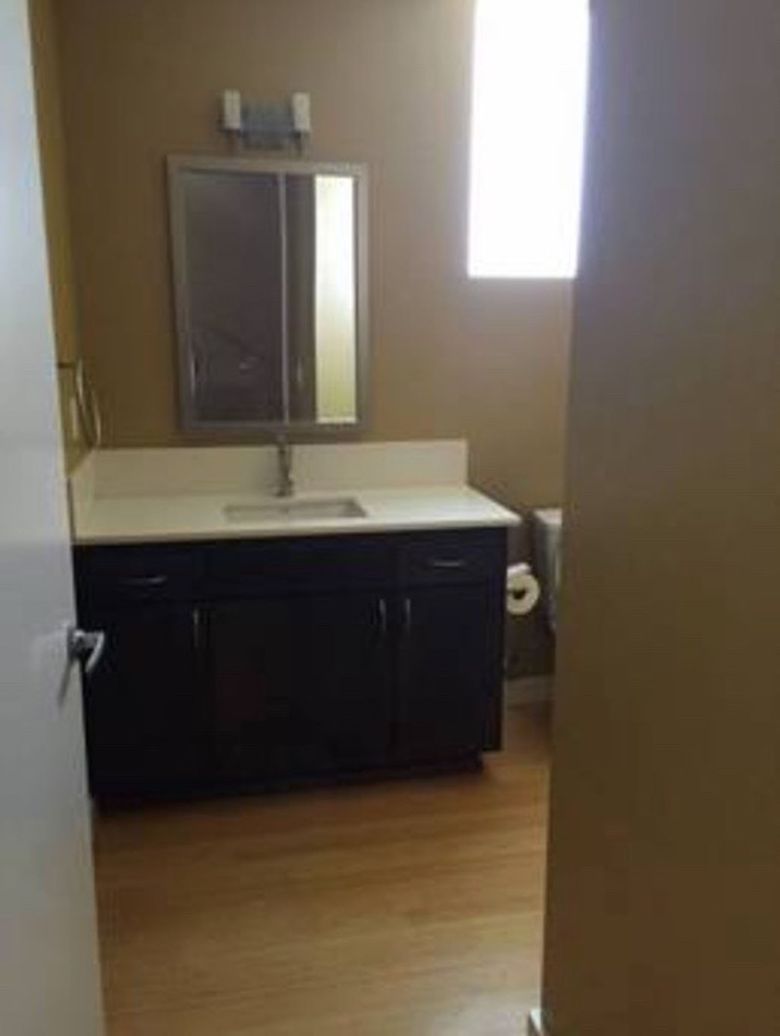 Brown walls, outdated hardwood, and a mirror too small for the vanity limited the potential of this small bathroom.
After: Airy and Sexy
What a breath of fresh air! The newly renovated bathroom looks bigger, brighter, and cleaner. The owners chose a circular mirror with a brown leather frame, to match the natural elements in this bathroom A black marble sink adds drama and beautifully compliments the geometric tile
3. Before: The Builder's Bathroom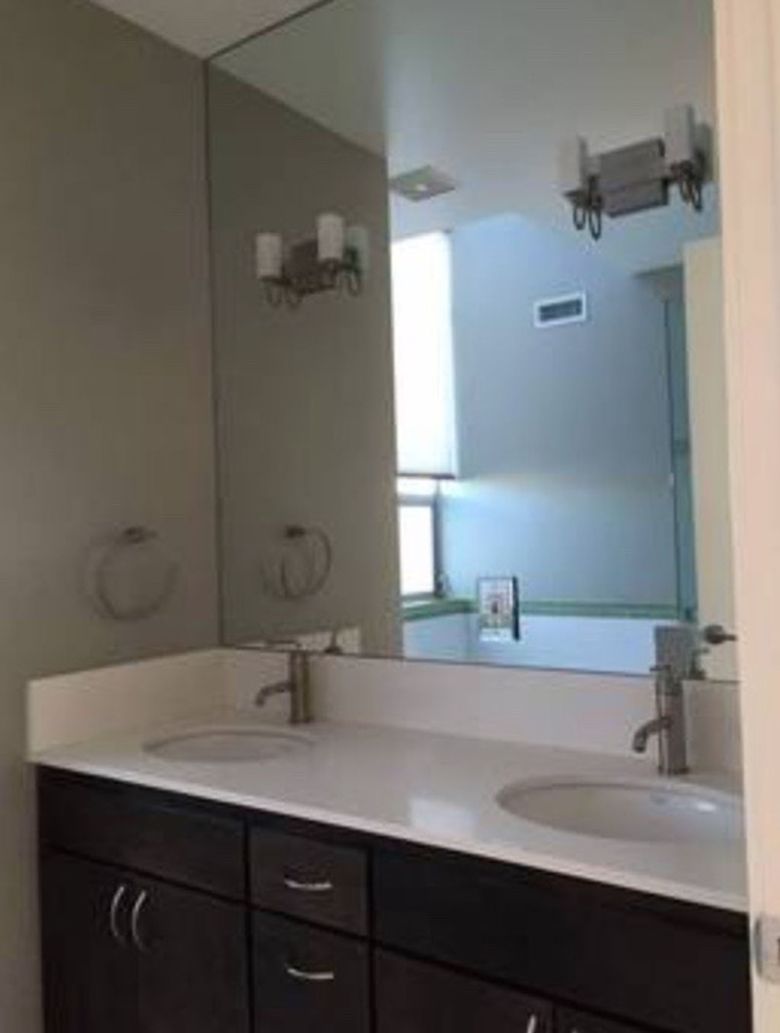 Builder's bathrooms are the ultimate design plague haunting homeowners across America.
Dull, boring, and crying for help, they're just begging for a coat of fresh paint and a magical renovation. This bathroom screams potential. It has plenty of space and a double sink which offer endless opportunities for added character and style.
After: A Tasteful Copper and Metallic Twist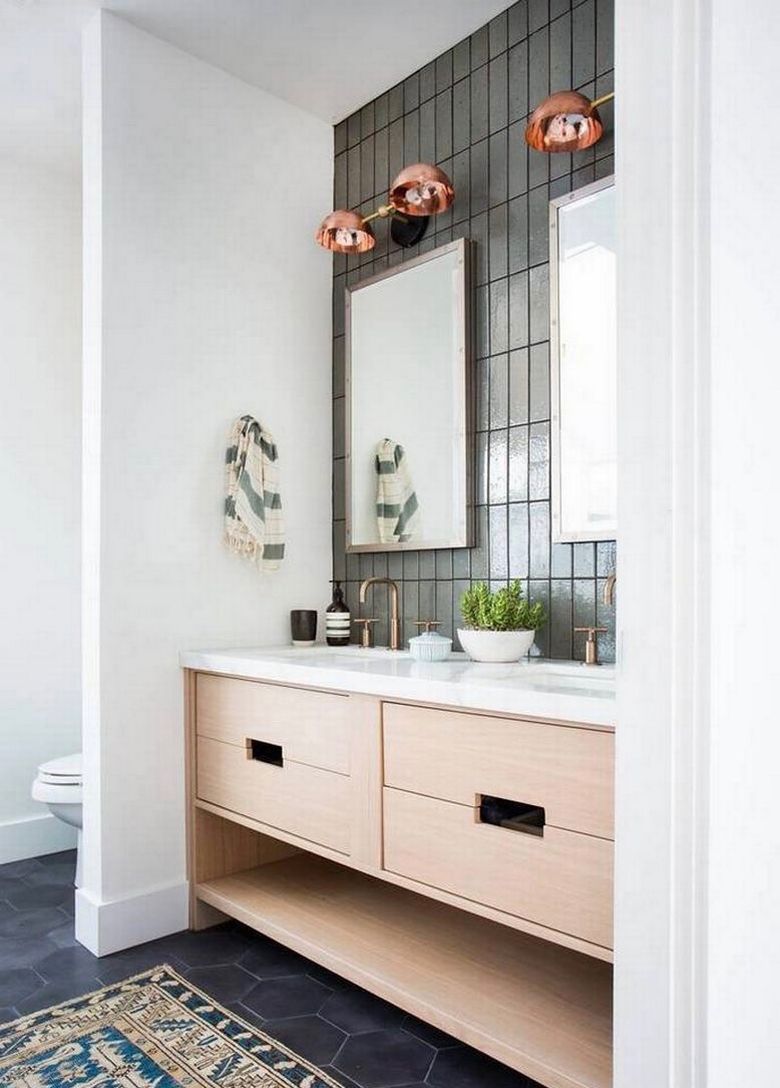 It all comes down to what you love! When faced with a double sink vanity, you can place a large horizontal mirror on the wall or two individual mirrors. Individual mirrors are a good idea because they show off a beautiful metallic backsplash as shown here.
4. Before: Lifeless and Unwelcoming

Poor lighting and a lack of focal point in this bathroom offer opportunity for a total glam makeover.
After: Clean and Stylish
Proof that even the smallest changes can achieve a huge difference. A graphic print wallpaper has become the focal point of this space without overpowering its overall look. The matching marble countertop and tile look consistent and pulled together.
5. Before: Teenage Disaster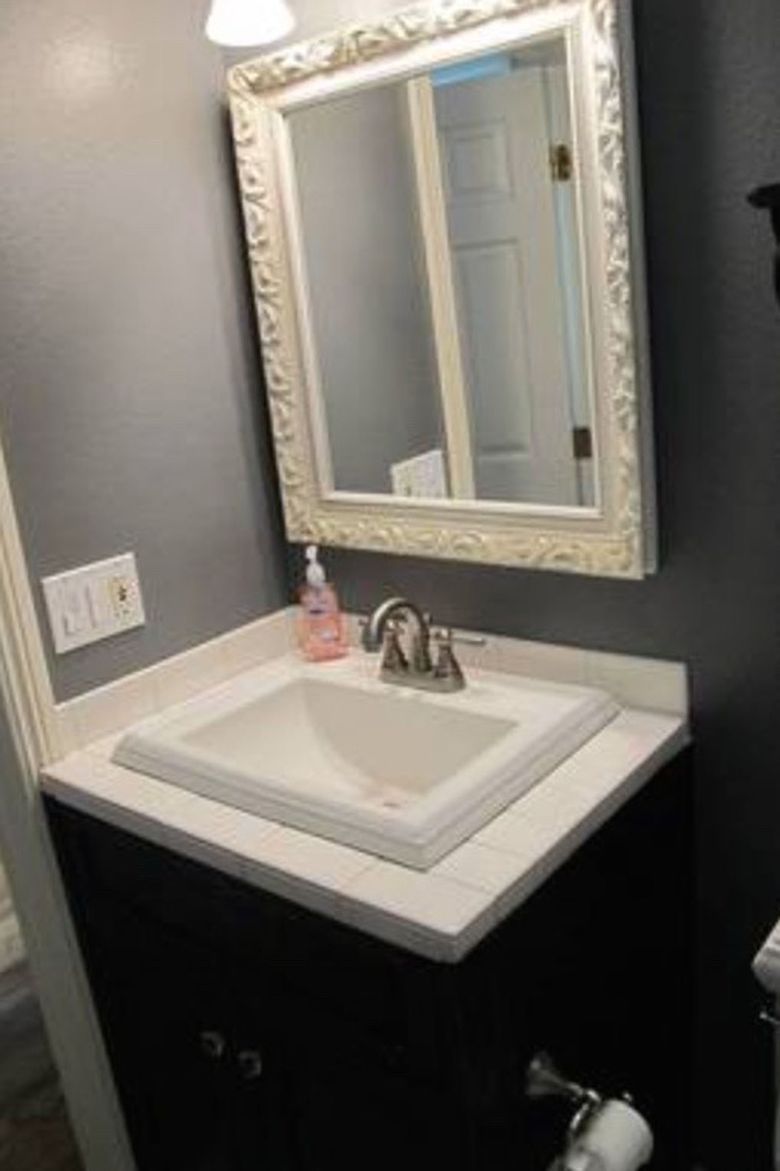 Thinking about decorating your small bathroom? Stay far away from black and dark colors. If you want to incorporate dark shades, choose accent pieces such as towels, accessories, or a patterned fabric or tile.
After: Grown-up and Modern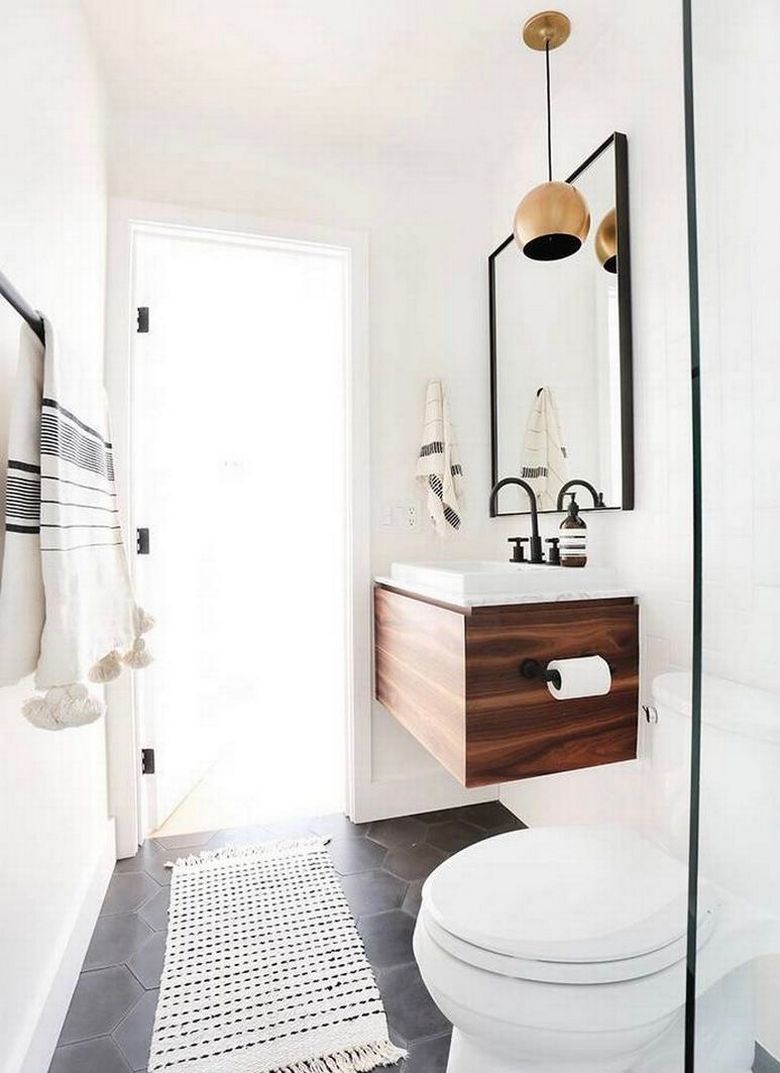 Matte metals are a timeless choice for any bathroom renovation. Here the owners decorated with a matte gold wall light, black matte mirror and plumbing fixtures. With matte becoming more and more popular, it is readily available online or even at your local hardware store.
6. Before: Begging For Mercy
Starving for attention, this bathroom was completely outdated from the green walls to the peach vanity. Although still "usable," this bathroom desperately needed a complete update to bring it to the 21st century.
After: A Breath of Fresh Air
During the renovation, more space was created by ripping out the old, boxy vanity filled with clutter and junk. In its place are new porcelain sinks with nickel plated and crystal faucets. The vanity's legs feature an elegant, soft shape that was paired with white wainscotting for a country look. Brown wood and woven baskets were used as storage – an affordable and pretty design option.
7. Before: Small Bathroom Dilemma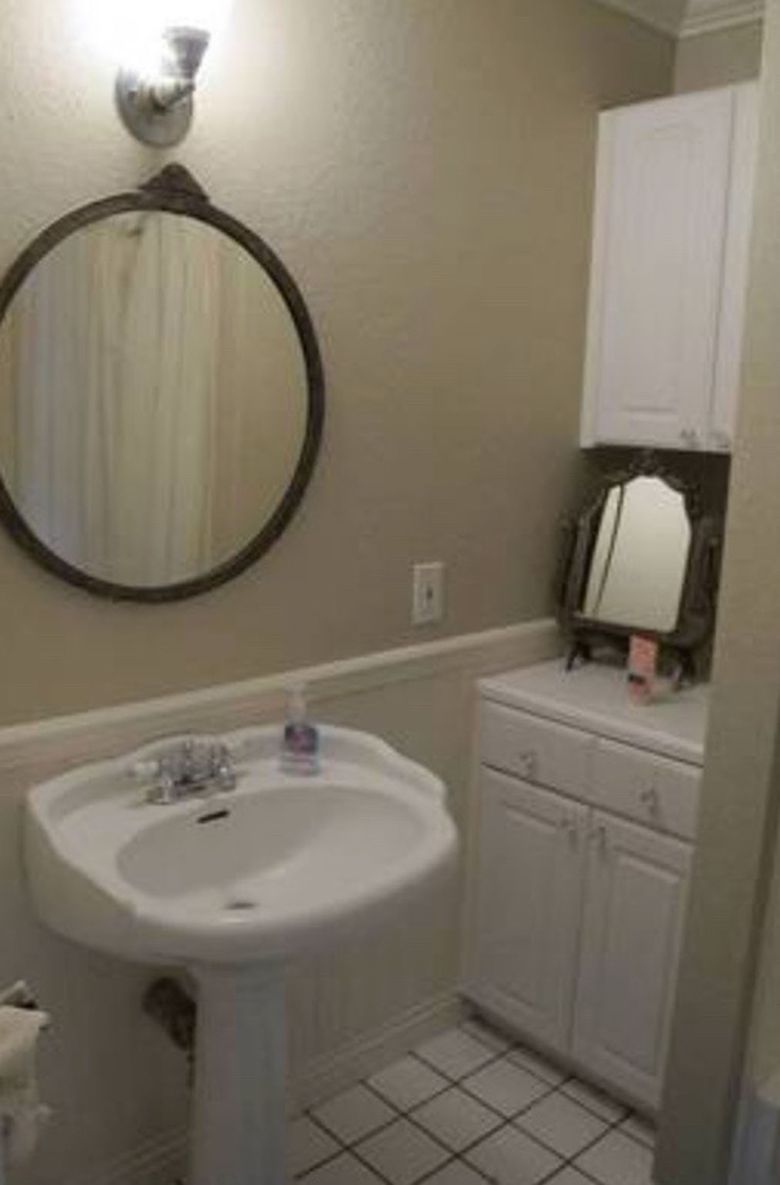 DESIGN TIP: Looking to create storage? Think vertical, not horizontal. Shelving can be installed higher for extra storage.
Small bathroom renovations such as this one can seem daunting, but don't fret. Due to their small size, you won't need as much material so you can treat yourself and spend a little more on higher quality tiles and vanities.
After: Well Thought-Out Solution
If you are faced with a very small bathroom renovation, make use of small corners for ample storage space. Stick to clean, boxy lines for a modern twist that will look polished in a tiny area. A geometric print will draw the eye away from the small size of the space.
8. Before: Princess Theme Disaster

Maybe this seemed like a good idea when the kids were younger, but the homewoners of this bathroom wanted a fresh new look.
DESIGN TIP: Pink is beautiful if used in small quantities, just don't overdo it or else you will have a pink mess on your hands!
After: A Bathroom Fit For Queen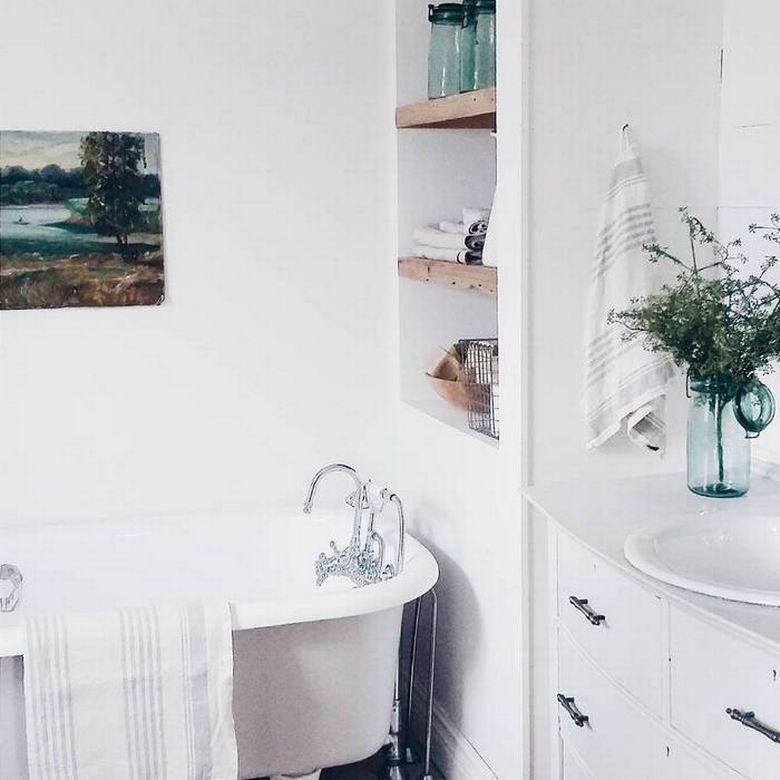 Elegant and timeless, the homeowners decided to tranform their bathroom into a vintage farmhouse setting. Wooden shelves were installed for towels which are an easy reach from the bathub. A vanity with large drawers provides more than enough storage space. The artwork was added for a burst of color that makes the space feel more like home.
Renovating your bathroom? Send us your before and after pictures and we would love to feature them!