This week we're featuring 10 gorgeous mirrors that strike the perfect balance between efficient decorating and stunning living space design. Decorating with mirrors is easy and the perfect way to make a space look bigger and brighter!
Mirrors Emphasize Your Artwork!
One major benefit of decorating your space with a mirror? If you have artwork hanging in your room or hallway, an adjacent mirror will reflect the design, colours, and patterns of the art! It's a cool, easy design trick to emphasize what you already own in your home. Another bonus? Mirrors come in different shapes and sizes, and can easily be moved to any space or wall you want.
Reflect Light (The Old Fashioned Way)
Do you have a beautiful backyard or breathtaking views seen from your window? Then own it and make it stand out! Bring light into your home by hanging a large mirror opposite of your windows. A mirror can reflect a beautiful skyline from a condo or scenic nature and flowers in your backyard. So you can even skip the art work in this scenario and work with your surroundings. DESIGN TIP: When you hang a mirror across from a window, it creates the illusion of another window!
Create A Mirror Grouping or Gallery Wall
Feeling rebellious? Forget the rules of symmetry when decorating your bedroom and go against the crowd! This mauve purple bedroom mixes up a modern day bed with a cute bohemian mirrored gallery wall! If you own multiple mirrors, try combining them into a gallery wall that will reflect lots of light near a window. Side note: I'm loving the ombre trend in home decorating I'm seeing right now! This room features 3 shades of purple: a dark mauve blue purple wall, with a lighter coloured velvet daybed and purple velvet accent chair!
If you have a hanging chandelier, a gallery mirror wall can reflect your chandelier's sparkle and light. It's also an awesome way to fill up a boring wall that you don't know how to decorate, and a great alternative to picture frames!
DIY Project: Fabric Covered Mirror!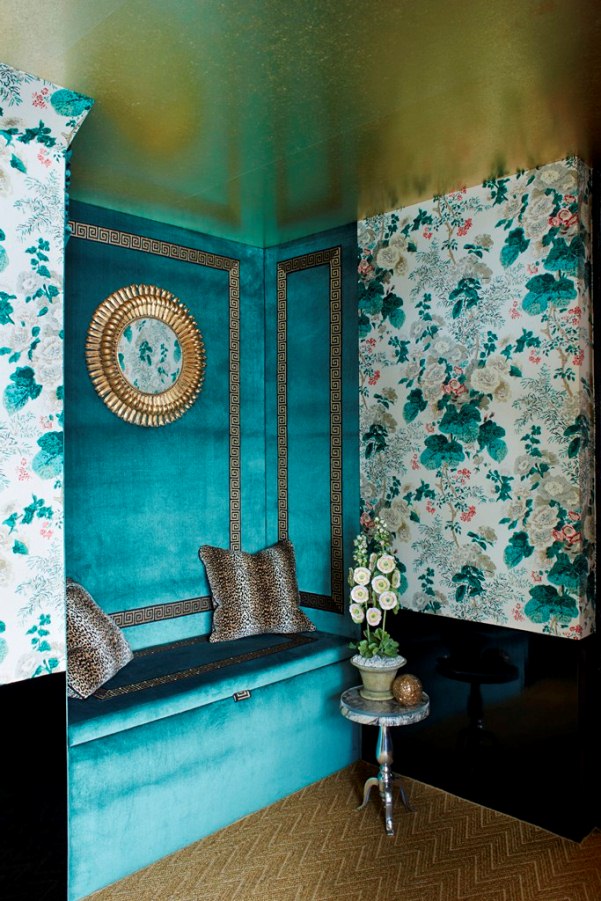 Who wouldn't be in love with this eclectic and super bohemian reading nook?! I found this photo online and thought it was the epitome of beautiful imagination and raw interior design talent. The greek keys border on the wall is a ribbon, that can be found at your local fabric or craft store! The turquoise velvet fabric can easily be stapled onto your wall and removed later! What really caught my eye was the gold leaf ceiling and fabric covered mirror. If you have an old mirror lying around at home, and are too broke to buy a piece of artwork, then cover your mirror in fabric! Just trace the shape and glue on the fabric, and voila! It serves as a DIY piece of art that is stylish and affordable!
Decorate With A Small Mirror (For A Change!)
Who says mirrors have to be big?! In the decorating world, we're told that we need a large floor mirror to open up a space or make it seem bigger. But hanging a small mirror in your hallway has a more artistic effect and is extremely design conscious. When choosing a small mirror, you are able to play with a larger frame and design.
Spice Up A Boring Vanity
Working with a neutral palette of beige, white, and gray in your home? A gilded gold mirror is a perfect way to spice up and add a hint of glamour to your decorating. This farmhouse bathroom mixes metallics with neutrals – by matching a copper bathtub and rustic bathroom sink with a glam mirror.
This custom, hand-carved wooden bathroom vanity mixes the old with the new in one! The clear sink on top is modern, simple, and classic, but without the floral glass mirror it would be a complete drag! With the right mirror, you can attract attention away from from a boring vanity for an instant and affordable bathroom makeover.
Get THE LOOK! Cute Mirrors For Your Home
---
Mirrors To Hang Above Your Couch:


The Sun Shaped Mirror
Floor Length Mirrors For the Bedroom
Gold Gilded Venetian Mirrors:
Hang It Above Your Dresser Or In A Hallway