Pink and nude are some of the easiest colour palettes you can use to decorate your home with.  Not only do these colours make you feel relaxed and at ease, they are currently a major pick amongst homeowners accross the globe. worldwide. Whether you're looking to decorate your bedroom, living room, or home in nude or blush pink, check out these 10 decorating inspirations that work for any space!
The Nude and Blush Victorian Home
This Victorian family room combines soft white and pink colours to create a gentle and relaxing atmosphere. Design tip: the space was brought to life with a grandfather clock placed in the corner, which is a cute way to design an empty corner in your home! I love this room because the tufted love seat adds a hint of Victorian interior style that is feminine, yet modern.
How To Get This Look: Choose a pale pink paint or fabric that has a peachy undertone to it. The peach brings out warmth in the space and is easy to style with browns, greys and winter whites.           
 

Pink Victorian Home Essentials
Parisian Apartment Inspiration
Say "Bonjour!" to this lovely mauve and pink Parisian Apartment. When choosing fabrics in pale and blush pinks, don't shy away from durable upholstery such as linen or woven knits. They are easily dressed up with soft pillows in mohair or velvet. I love this home's white-washed barn style floors! A light hardwood floor will make your pink decor and furniture more vivid to the eye.
Get The Look! Lovely Parisian Apartment
The Perfect Pink and Blush Paint Colours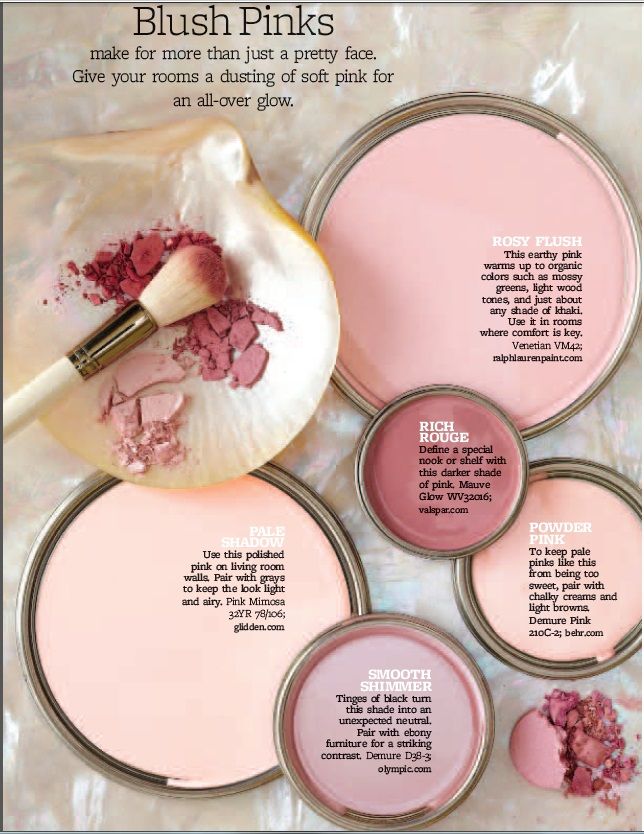 The names of the paint colours are featured in this photo, along with a description on how to decorate with them in your home.
The Mauve Pink Bathroom You Never Knew You Wanted!
Designing your bathroom with a pink colour scheme can pose a headache or challenge to any inexperienced designer or homeowner – even me! But let's get one thing straight – it's all in the details! Mauve pink is a neutral that is warm yet subtle. This Victorian bathroom shows us that if you use these colours in your curtains or towels, it's enough to make a difference. This bathroom paired grey wall paint and chevron tiles with mauve accents.
Incorporate Blue or Teal Accents With Nudes
I'm not sure if the palm tree is real (if anyone knows of a gold palm tree species, let me know!) but this gold palm tree is bomb and is more stylish than a real one. What really caught my eye about this apartment is the way the owner accessorized with blue and teal colours. The sheepskin stool was dyed with a blue fabric dye that you can buy online on Ebay. If you happen to have some old sheepskin lying around your house, try dying it a cool colour to create a fancy accessory.
Mother Nature – T

he Mother of Hom

e Colour Inspiration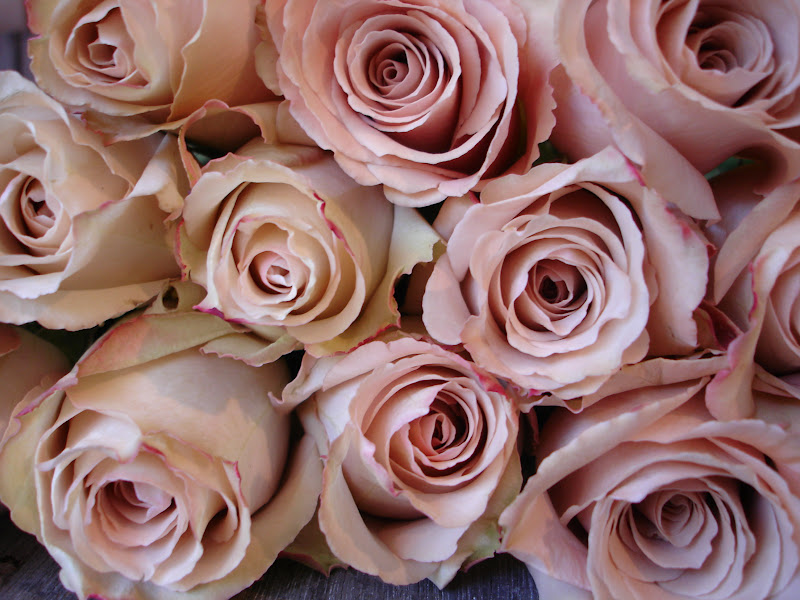 Sometimes the best and most stunning colour inspiration comes from nature itself! Flower arrangements offer a rainbow of colourful shades that we can use for inspiration in our homes! This soft pink bouquet is delicious, and cheery – so take a hint from mother nature when decorating your own home!
Design With Metallic Fabrics!
Not really feeling soft and blush pink nudes colours? There is always the metallic option! Metallic fabrics are for the more modern and sophisticated at heart. To really incorporate this home style trend into your life, you can choose a metallic throw in the bedroom or an accent ottoman that is not too colour offensive. Metallic furniture and fabrics add warmth to a cool coloured home, and can be moved around the home easily to match other styles.
Upgrade With Neon Lighting
First started by Kourtney Kardashian, neon lighting gives a modern style boost and will accentuate your beloved pink designed space. Check out your local hardware store, www.neonfilter.com or E-Bay for custom Neon Signs that you can order right to your doorstep!
The Pink Entrance Door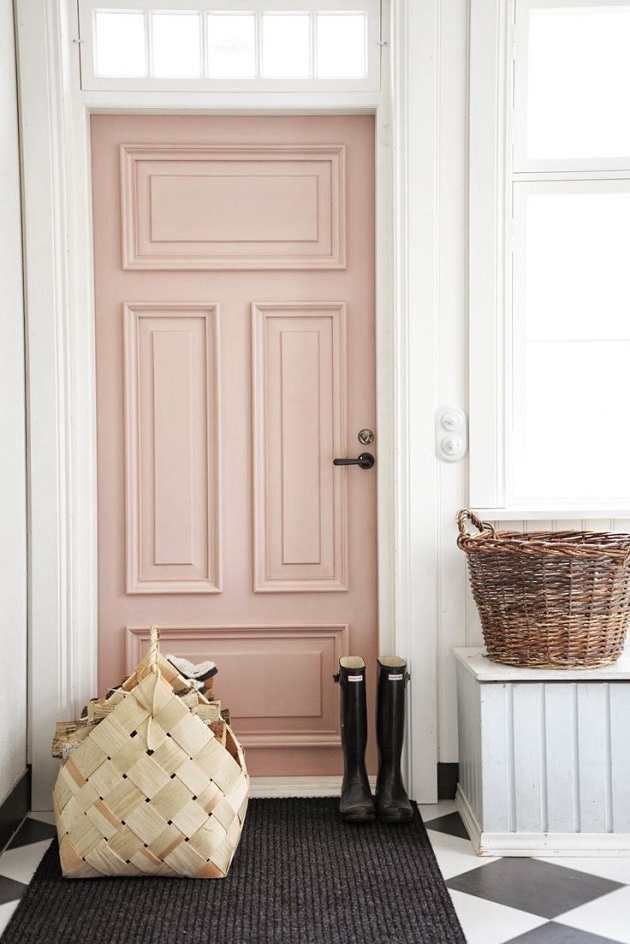 As homeowners, we want our guests to feel welcome when they come visit our own personal sanctuaries.  Although not traditional, painting the front door of your home in a soft pink brings kind and relaxing vibes to your visitors. I mean, who wouldn't want to open this cute door to see what's inside?
Another feminine entryway idea: metallic pink is a stunning option for a front door colour, which can be paired with soft purple and violets. This mysterious homeowner hung a metallic pink curtain in their entryway during the hot summer months. Completely a blissfully beautiful.