Tired of feeling the winters blues? Designing and decorating your home for spring is one of the most exciting times of the year! We're about to spill the beans with 5 amazing spring decor ideas for under 100$! Caution: not only will your wallet love you, but your home will look FABULOUS!
Frame A Poster As Artwork

(Level: SO EASY YOU SHOULD CRY OF HAPPINESS!)
Framing a poster in your home can serve as a focal point for the space, and is much more affordable than real artwork! The best part? YOU can choose any picture you like, even if it's a personal photograph!
Sure, hanging a piece of artwork above your couch is how every classy homeowner designs their home. But hold up! What about framing a poster that is edgy, intriguing, and costs a fraction of the price of real artwork? This traditional apartment in Madrid proves you can combine traditional European design with modern elements! The colour combo of this living room is perfect: you've got the greek key carpet, a blue velvet sofa and red accent pillows, and the framed poster for a modern update!
Get The Scoop! Lavish and Modern Madrid Apartment
Visit your local print shop and print out a photo of your husband, boyfriend, or celebrity crush, and frame it in the bedroom!
This one's for the ladies! (But it works for guy's, too!). This chic Parisian apartment is home to a cozy marble fireplace with hand carved detailing, that is very european and traditional. But the homeowner has spiced it up with a sexy poster of a stunning male model! A print at your local print shop shouldn't set you back more than $50, and there are plenty of cheap frames lying around at your local thrift store or Home Goods. There really is no better way to re-decorate for spring!
Wallpaper Your Closet!

(Level: Intermediate)
Say goodbye to those dirty, scuffed walls in your closet (admit it, we all have a closet like that in our house!). With Spring before us, you want to start off this happy and feel-good season right! An alternative to a floor closet renovation or makeover, which is pricey and time consuming, can include wallpapering the drawers or back walls of your closet. It's a easy and a cheap way to transform your closet into a stylish, celebrity-worthy space!
DIY Tip On Redesigning Your Closet or Dresser: Try lining your dresser drawers with wrapping paper! Much cheaper and you have endless style and pattern possibilities, which makes for a fun DIY project!
Turn A Vintage Find Into A Furnished Jewel

(Level: Intermediate)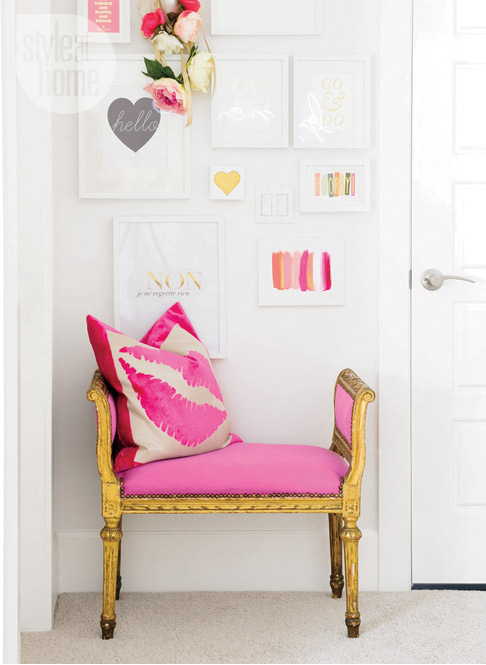 [mks_pullquote align="left" width="300″ size="24″ bg_color="#c42d80″ txt_color="#ffffff"]Looking to decorate an empty corner in your hallway at home? A piano bench or footrest can serve as a decorative piece of furniture for any lonely corner! [/mks_pullquote] Alright, so we've all heard the term "one man's trash is another man's treasure" before, and we've seen it online, so why not try it out?! Visit your local thrift shop or flea market, and you just might find that piece of furniture that costs 5$, but looks like $500 with a new coat of paint and fabric!
This French accent chair was painted with gold and upholstered with a bubble gum pink fabric! I can picture this at the base of my bed, in a hallway corner, or as a piano bench or footrest!
Get The Look: Fab Pink Furniture and Accent Pieces

Replace Old Lighting

(Level: EASY)
All that glitters doesn't have to be the price of gold!
Sometimes a chandelier hanging in your hallway or kitchen is all you need for an easy springtime home update! Tip from the pro's: the secret to a beautiful home is having variety when it comes to lighting. Lighting fixtures don't have to match, and a variety of lamps and bulbs will bring different glows to your room. P.S. Check out the wicker table and chairs set in this funky 50's style kitchen! To die for!