[mks_pullquote align="left" width="300″ size="24″ bg_color="#fc99f2″ txt_color="#ffffff"]Your table setting design says a lot about you – it's where you can really show off your design skills and creative personality.[/mks_pullquote]The table is where it all begins for every family – laughter, talk, gossip, closeness, and love! It's a place that any decor diva should definitely spend some time (and a little bit of money!) on making it a beautiful part of her home.  We all know that magical feeling we get when we see beautiful table decor, and the excitement it brings to dig into our food!
That's why we're bringing you 7 stylish table setting ideas for stylish cutlery, dinnerware, and decor accents that will have your guests asking how you do it!
10 Gorgeous Table Settings For Your Home
Pink and White Square Plates
This square pink dinnerware set is so charming and stylish! Nothing says spring and summer decor than a table set with soft pinks, yellows, and blue hues! The soup bowls mimic the shape of a blossoming flower, and the white lace accents on the corner are extremely chic. If you're looking for a dinnerware set that is modern and feminine, this setting is perfect for the outdoors and indoors! To recreate this table, accent with crystal glasses, gold flatware, and gray napkins. You can use glass mason jars for a cheap and inexpensive vase or centerpiece!
Pretty In Pink Tableware – Get The Look!
Mixing Colours, Prints, and Textures
Even though home trends have been dominated with pale white designs, it's time to dive right into colour! Bold patterns, loud colours, and I-can't-wait-to-touch textures are making a comeback! Violet, lilac, and light to dark shades of blue have been brought center stage with the release of Pantone's colour picks for 2016. When you design your table, it's a place where a wide range of colour matching choices come in to play! Choose what you like and have fun with it!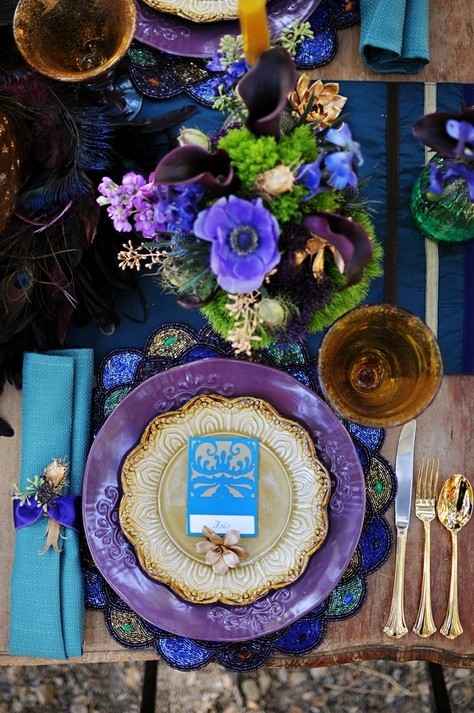 The best thing about colourful table settings? Their design doesn't have to be in sync with the interior of your home! Whether you have a country home, modern, eclectic, or traditional, the table is where you can incorporate a pop of colour through tablecloths, flatware, and place mats! Choose beaded place mats or napkins for their diverse range of colours and flavour. Say goodbye to traditional silver flatware and splurge on gold-plated cutlery with artistic and stylish designs. If you're home or space is decorated with light or neutral colours, then the table setting is where you can add dimension with dark hues such as indigo, purple, fuchsia, and emerald green.
Another big hit for 2016? Naturally carved and finished kitchen and dining tables. Any type of dinnerware from modern, to china, asian, or contemporary matches with a natural solid pine or oak table.
Bold Is Beautiful! Shop The Look!

Chevron Napkins In Funky Colours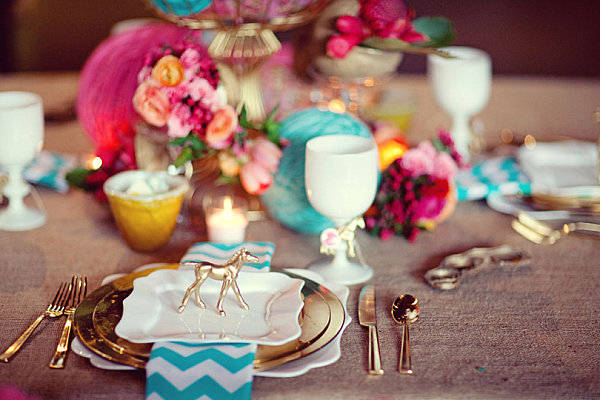 Chevron table napkins are all the rage with décor divas in town! Perfect for a pop of colour, it adds a great backdrop for showing off your flatware and can tie in the colours of your centrepiece.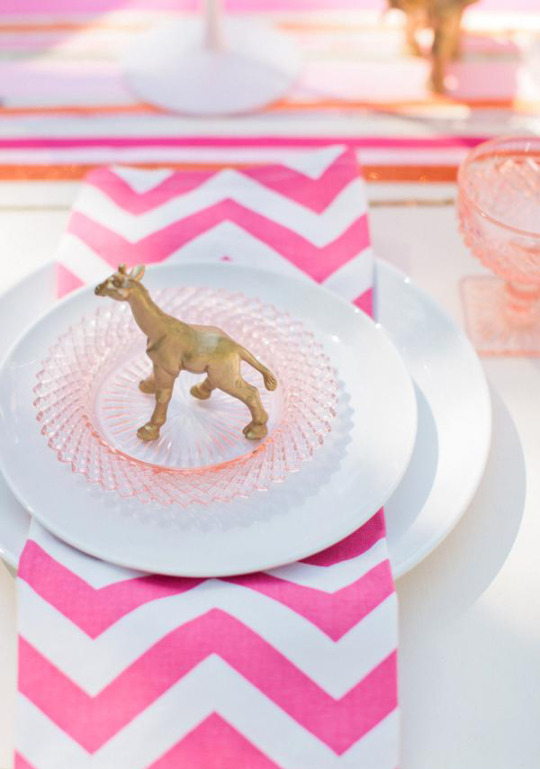 When used properly, chevron can add stunning appeal to your tablescape. It's chaotic, fun, and the most-loved pattern on Pinterest! With Chevron, scaling is key. Don't overdo it and use too much when you are designing your table setting. Instead of a chevron tablecloth, choose a chevron runner for your table to keep your it from being too busy. If all your dinnerware is white, then this chevron will bring it to life if you choose a bold colour like hot pink, turquoise, or yellow. It's an inexpensive way to dress up any table if you're looking to work with what you have in your kitchen.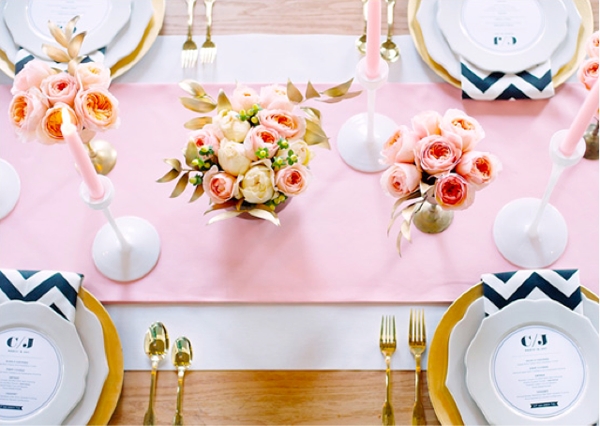 DIY Cheap décor trick: If you don't have chevron placemats, then visit your local craft store and buy some chevron tissue paper or scrapbooking paper! Cut it out in a rectangle shape and plae it under your plates and flatware! It's an instant update and design trick from the pro's for your table design, and a cheap DIY alternative.
Masculine and Manly: Black And White Table Set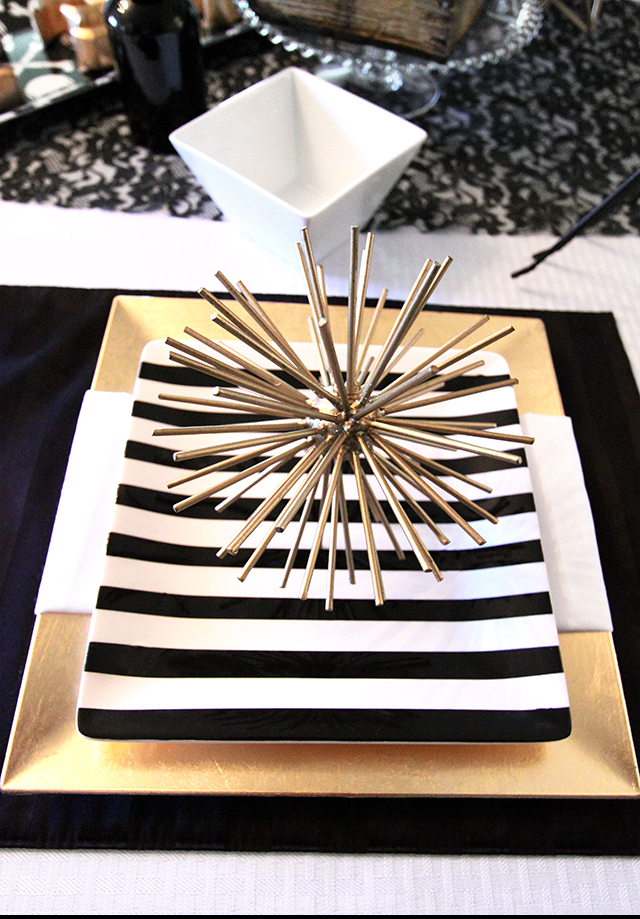 Enjoying your meal in elegant style is what life is really about! Creating a pleasant atmosphere with black and white stripes is easy, updated, and unisex. If you're looking for a more masculine table setting, then black and white stripes or solids is great for the men out there! With metallic elements still trending this year, you can incorporate earthly gold coloured cups, plates, and centerpieces for contrast.
Super Easy Basic Table Setting Guide: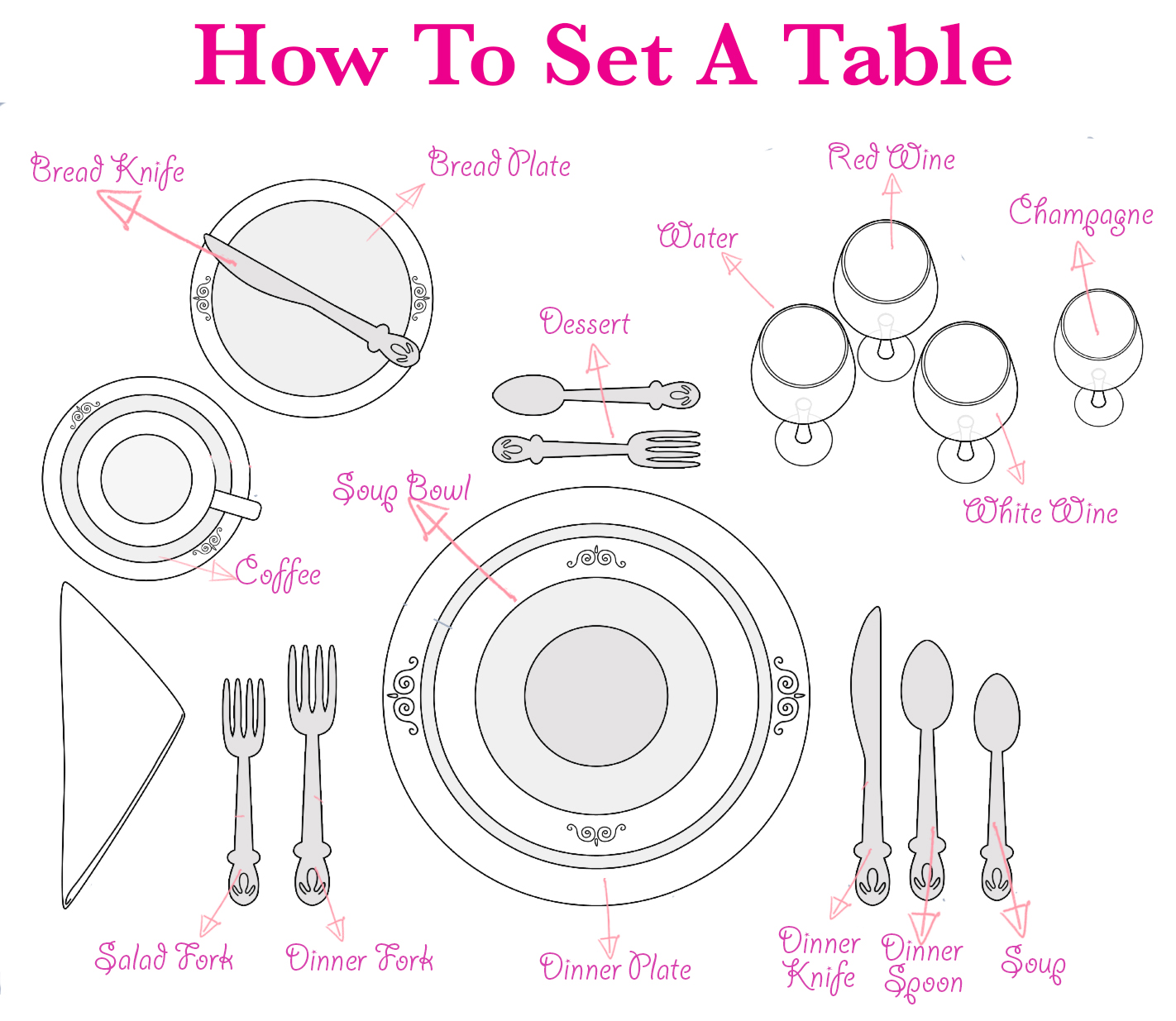 [mks_pullquote align="left" width="300″ size="24″ bg_color="#e2ace2″ txt_color="#ffffff"]Once you learn how to set a table like a pro, you can start designing your dream table setting! [/mks_pullquote]Anyone remember the movie Titanic? I love the scene when Jack sits down at a first class dinner and has no idea what to do! Setting a table properly is actually incredibly easy and not intimidating at all! With so many table setting ideas, it doesn't have to be boring! Save our table setting guide for future reference, so next time you're having people over, setting your table will be a breeze!