Wow! Kate moss circa 2012, seen photographed in the Coco Chanel suite at the Ritz in Paris!
As soon as I saw this retro scene inspired by creams, pinks, and bubbles (seems very 1950's to me), I had to share! Recently, VOGUE magazine released a collections of photographs of some of the most artistic and luxurious bathrooms they have featured over the last 40 years. Majority of the work done in these retro spaces is completely custom and tailored to the personality of each designer's wealthy client. The craftsmanship is stunning!
Looking to get inspired? Here are 7 retro bathroom ideas  to get you decorating ASAP!
1. A Mini Garden in The Master Bath !
For Design Divas Only: a a floating glass medicine cabinet and a mini indoor garden!
This Art Deco master bathroom was designed by famous Paris-based designer Francois Catroux in 1975. During this period, mirrors were a huge accessory as were polished and symmetrical finishes. Check out the cute vintage telephone in the bathroom! The exotic flair to this master bath mixed with modern elements is extremely inspiring. Catroux's spaces are designed with plenty of character and loud personality, and his clients include wealthy royals like King Hussein of Jordan.
To get this retro bathroom look at home, stick to soft neutrals like rose, cream, and light brown. Don't forget to decorate with natural stones, and rubber plants or palm trees! Keep your fixtures sleek in design, with chrome shower heads, faucets, and sinks.
Create Your Own Indoor Garden!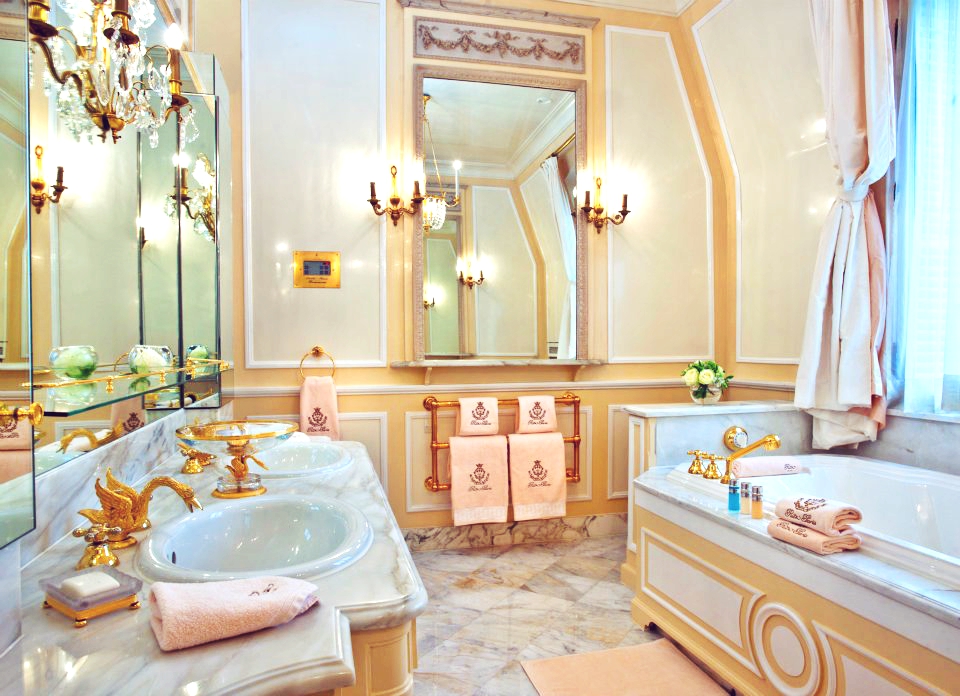 Can't afford a mini garden? Add a vase with fresh flowers, or a potted plant instead! This is the Coco Chanel suite in Paris at Ritz Carlton, frequented by celebrities and the set of the Kate Moss Vogue photoshoot from 2002!
2. Floor to Ceiling Mirrors
This 1974 bathroom belongs to the famous Sao Schlumberger, the filthy rich socialite wife of French-American oil tycoon Pierre Schlumberger. Salvador Dalí painted a portrait of her, to which she replied, "I really don't like it."
Extravagant, isn't it? This mirrored master bath is decorated with real cheetah-hide rugs, a chrome bathtub, and sliding Asian Shoji doors. The warm yellow lamps add warmth and mystery to this washroom. Large floor to wall mirrors were a big hit in the retro era, with large mirrors above the bathtub, instead of tiles or backsplashes like we see today.
Exotic Socialite Style:  Get The Look!

3. Retro Shag Carpeting Instead of Tiles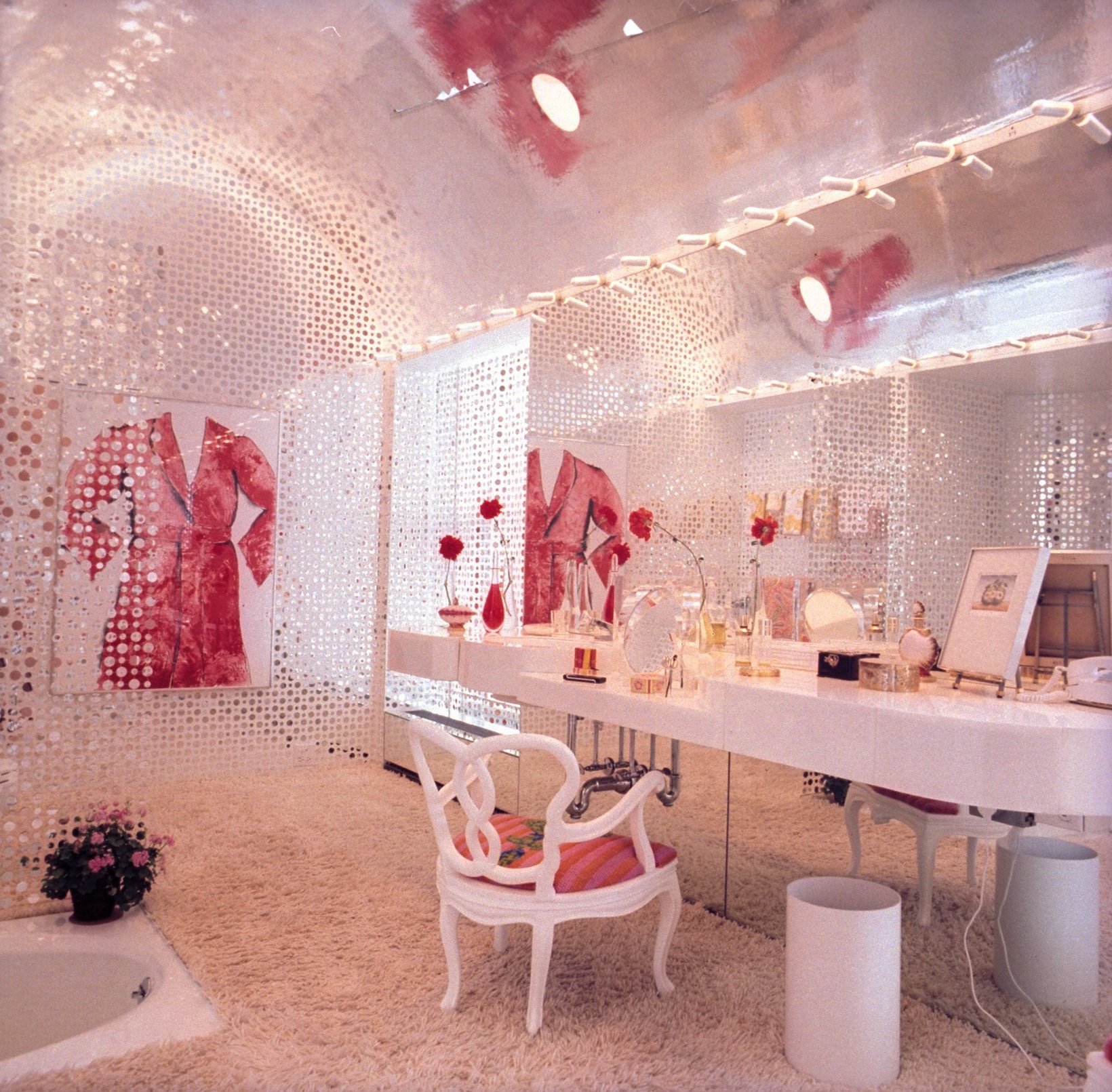 I wouldn't go this far, but this master bath has shag carpeting instead of tiles for flooring, right up to the edges of the bathtub. If you have a maid that can keep this clean, I say go for it! Otherwise just choose a machine washable white or cream rug to make your life easier.
4. Wallpaper The Walls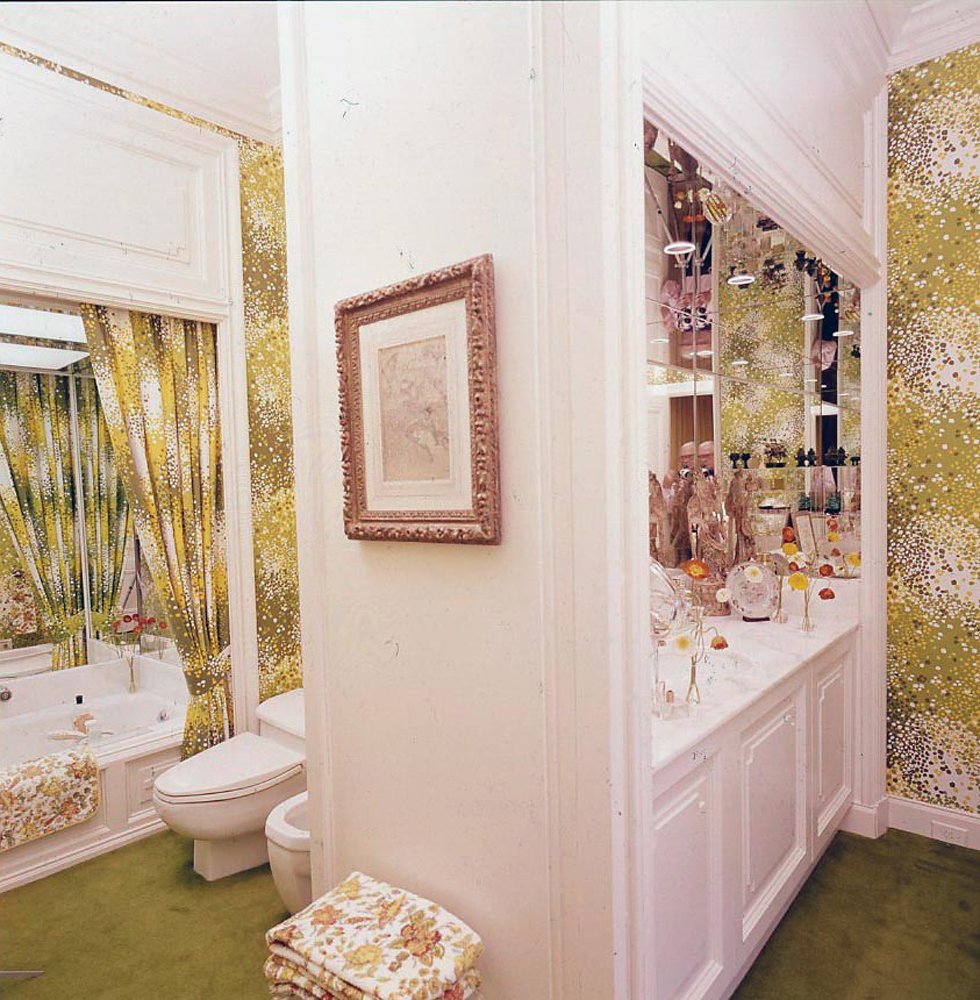 This 1974 San Francisco apartment is lavish and eccentric! Brighten up a boring white bathroom with busy wallpaper to mix in colour and personality. Retro wallpapers include busy designs like florals, geometric prints, small, and romantic patterns. Going for the retro look? Green and yellow were all the rage during this time. My grandfather's house, which was built in the 70's as well, also had this same green carpeting all over.
5. Add Mediterranean Accents
This Rome bathroom from 1967 is a showcase of Italian luxury at the time. Achieving this Mediterranean style bathroom is all in the accents! Traditional terracotta tiles covering the walls, floors, bathtub, and sink tops are a must for this look. Choose colours inspired by the land and sea: deep blue with white, red and orange, black, and sunny yellow. What I love about this photo is the accent chair in the shape of a sea shell! Wooden furniture gives authenticity to this style, so stay away from plastic accents and metals.
Sail Away! Mediterranean Luxuries

6. Mix Metals and Marble
Chrome doesn't have to look industrial, cold, and boring. You can combine any colour from pink, blue, to yellow and red with chrome and metal appliances or bathroom fixtures! These 70's bathrooms are bright and their marble finishes are the focal point of these spaces.
Nothing says loud 70's more than funky colours and designs!
This bathroom didn't shy away from colour: it boasts sky blue cabinets, vanities, and a built in storage closet for towels. The red and brown earthly coloured marble is specific to 70's style, which was dominated by earthly tones. Even the bathtub is made of marble!
Mix and Match: Marble Treasures

7. Play Up Geometric Elements
Celebrity home sneak peak! This is Yves Saint Laurent's bathroom in his Marrakech, Morocco home in 1980!
Even back then this designer's had genius talent for couture, design, and combining colours. His famous villa is where he spent time decorating and designing with partner Pierre Bergé. Laurent combined stunning emerald green with brown, turquoise and light gold ceramics in a geometric pattern to create this romantic bath. One of his biggest inspirations upon moving to Morocco was Islamic art, culture, and textile design. You can see this influence int he custom tile mirror above the bathtub that is a similar shape to a Jewish star.
Steal The YSL Style! Teal Home Accessories!