Looking to prep your home for winter with comfort and style?
Sheepskin rugs, pillows, chairs and ottomans are currently all the rage! Once known to be used in country and cottage-style decorating, sheepskin has transitioned into urban homes and apartments everywhere.[mks_pullquote align="left" width="300″ size="24″ bg_color="#efc5ba" txt_color="#ffffff"]We share some tips on decorating with sheepskin and a cool DIY project that will cost you less than $100![/mks_pullquote]
Use Sheepskin To Add Texture
Simplicity definitely beats complexity. If you've got an all-white bedroom or space in your home, a sheepskin rug can spruce it up by adding texture to blatant white. For a harmonious interior, you can add texture in the same color but in the form of fabrics, wallpapers, and carpets. The sight of a sheepskin rug, although white, brings warmth through its shaggy and luxurious fur.
Amazing Sheepskin Stools and Chairs
Get THE Look! Pink Sheepskin Carpets and Blankets
Combine Sheepskin With Other Furs 
 [mks_pullquote align="left" width="420″ size="24″ bg_color="#005941″ txt_color="#ffffff"]"For a house to be successful, the objects in it must communicate with one another, respond and balance one another." – Andre Putman. [/mks_pullquote]Mix a minimum of 3 different furs (faux-fur is perfectly acceptable) in your space for a pulled-together look that also gives a theme to your decor. This emerald green room combines soft and dark browns furs with white to add character and charm.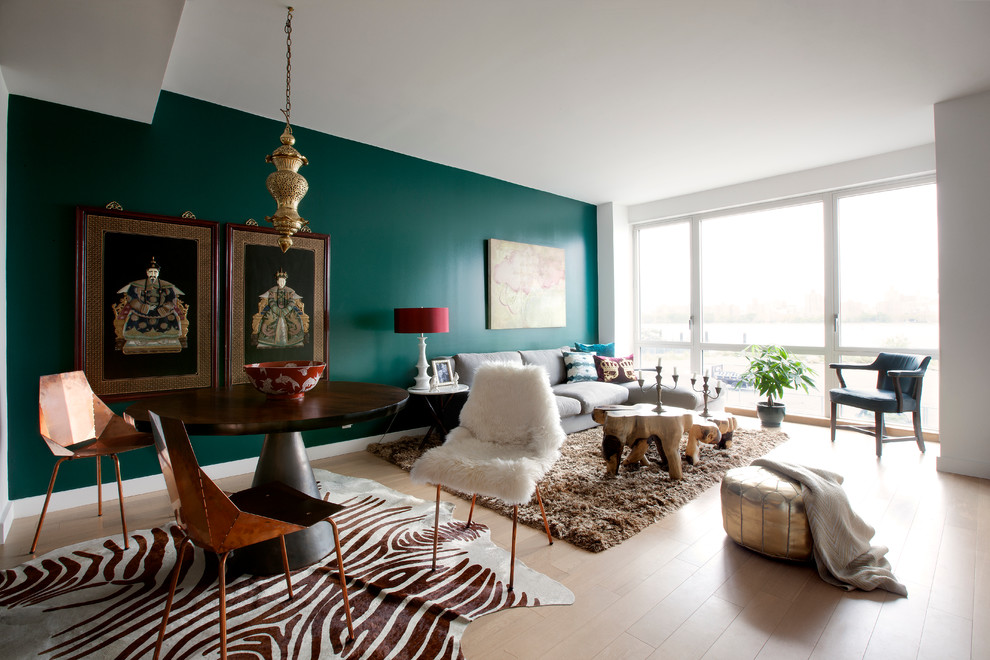 Emerald Living Room With Sheepskin and Copper Decor
Use It As A Comfy And Stylish Chair Cover!
Not sure how to upgrade your kitchen or an old chair? You can change their look by throwing sheepskin over them for a glam and ultra-sophisticated appearance. This space used Icelandic Sheepskin, known for its long, thick fur to turn a boring neutral kitchen into an exciting dining area. Some sheepskin rug products are dyed different colors, so you there are endless options to choose what matches your home best.
 Shop The Room:
DIY TUTORIAL!
Want to know how these fur stools were made? Check out this easy DIY tutorial by by Binaca Hall at French For Pineapple Blog.  Photos are by Bianca Hall.