Whether you're deciding on a full-out renovation, or just looking to makeover your living room with a few simple living room ideas, we bring you 6 tips and inspirations on redesigning the perfect living room !
Furniture Placement is Key
Is your sofa pushed up against the wall? Artwork hanging too high on the walls? Do you own a carpet too small for your space? Take a look around your home and you may see these common interior design mistakes. Don't forget that re-arranging your furniture and smart decor ideas are key to a functional and designer home. Make sure you bring your furniture together. Bring your sofas closer and group accent chairs in pairs that will spark communication between these pieces.
Get The Look: Purple Home Decor Finds
Use Carpet Tricks To Make Your Space Seem Bigger
Have your furniture sit on top of the rug, rather than going for a traditional 8 x 10 sized rug. When you place the sofas on top of the rug, your living room will appear bigger. It's also adds a much cozier and stylish feel to your space and makes everything look furnished. Investing in a large rug is worth the money, because it can be later moved to a bedroom where it gives off the same effect of having a bigger room.
Splurge On A Round Sofa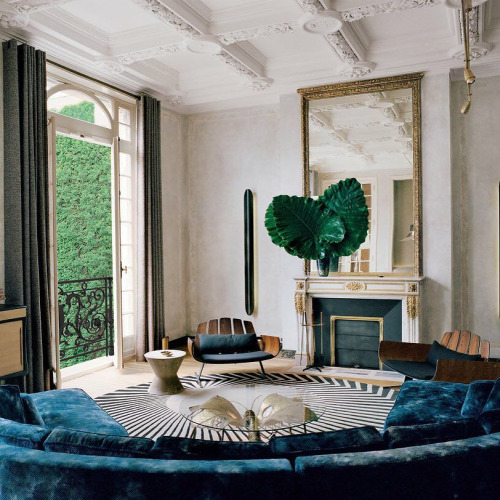 If you're going to splurge on one big-ticket item in your home, then spend it on a sofa! If you're looking to create character and personality, then a round sectional sofa is perfect for you. A round or oval-shaped couch brings unity to a room and sparks conversation between guests. It also creates more space behind the sofa, so if you're working with a large living or family room, a round sofa frees up extra space behind. You can use this space for bookshelves or plants.
This parisian apartment incorporates a round velvet navy sofa, with a geometric chevron black and white carpet. A round rug is definitely a must with this type of couch, and don't be scared to play around with different prints.
Luscious Round Sofas
Create a Reading Nook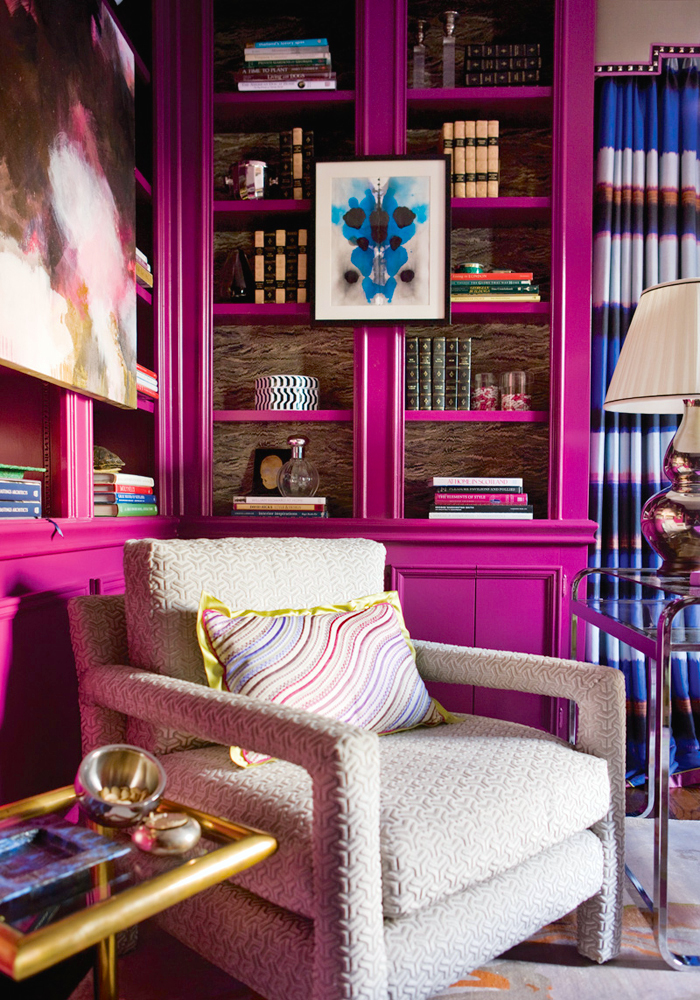 This is a bonus idea! A reading nook doesn't a) require a lot of space b) is a perfect way to decorate a random or empty corner in your home. One cool way of making a reading corner or nook stand out is to paint your bookshelves a vibrant hue of pink, green, blue, or violet! Choose a high gloss paint and make sure the colour matches the palette of your space. If you're reading corner is next to a large window, you can make it more interesting with patterned or striped curtains like in this eclectic living room above.
For The Daring Hot Pink Homeowner
Design A Workspace
Along with a traditional office, a mini workspace in your living room is perfect if you have kids and want to keep an eye on them. The right workspace affects your productivity and performance, so make sure it's designed with a clean look, functionality, and colour in mind. Computer tables don't have to be ugly and boring, so play around with colours and styles like in this living room by Marcus Design. The owner enjoys a French provincial white and gold leafed desk with a comfy hot pink chair that doubles as a workspace!
Pick A Stunning Vase And Plant a Palm Tree
Shake Up A White Room With Chevron and Peacock Inspired Pieces!