[mks_pullquote align="left" width="300″ size="24″ bg_color="#0774c6″ txt_color="#ffffff"]Nothing screams Georgian home more than spacious rooms, luxury, and tradition – it's my all-time favourite architectural style! [/mks_pullquote]So when I came across this beautifully redesigned Georgian Mansion in the heart of Melbourne, Australia, I fell in love with it's modern twist. Georgian homes are known for their "family" and "homey" feels, symmetry, and multi-pane windows. All are classic designs that never become outdated! However homeowners Tim and Kate decided to take it to another level – explore this 21st Century colonial home for an old-meets-new design journey!
The Georgian Colonial Home Tour Starts Now…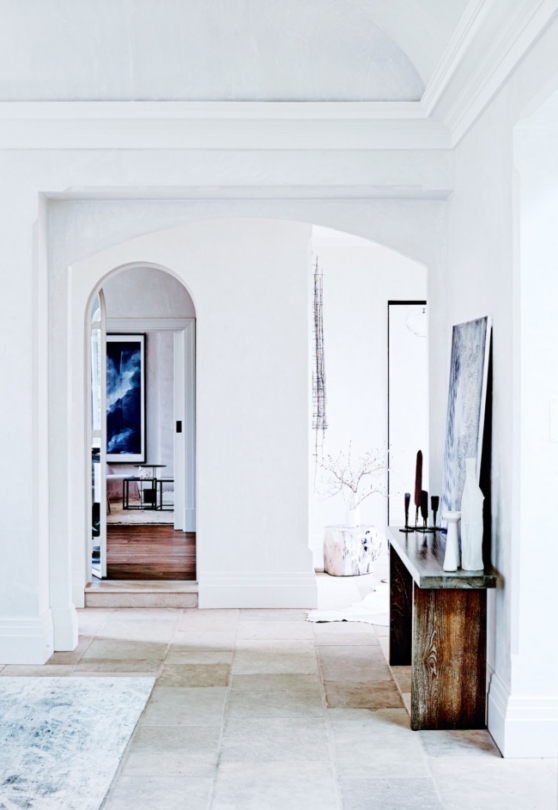 Cool entrance idea! This entrance features a rustic console table made of solid wood that features a leaning piece of artwork. Simple yet classy! If you love to collect artwork, this is a cute idea because you can change your featured artwork on a regular basis. No hanging, hammers, or nails required!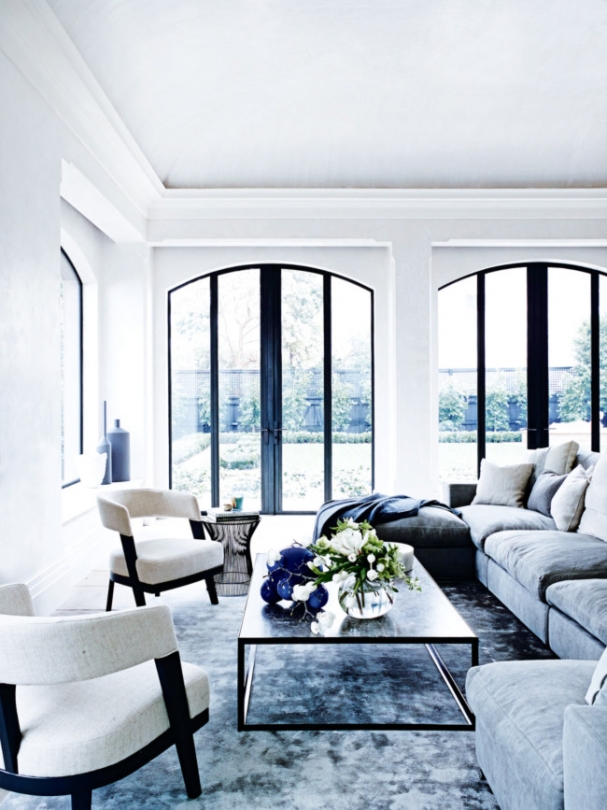 Trend alert! I'm seeing this "ombre" effect in many homes – the same colour throughout a house that ranges from light to dark. This home features a wide array of blue shades that start from light powder blue and slowly transition to deep navy.
Can you say 50 Shades Of Blue? If you decide on moodier or darker colours for your home, you should be working with high ceilings, and plenty of natural light. Side Note! These modern, art deco doors are a twist on classic Georgian windows – instead of multiple panes, they feature vertical steel frames with a classic arch at the top.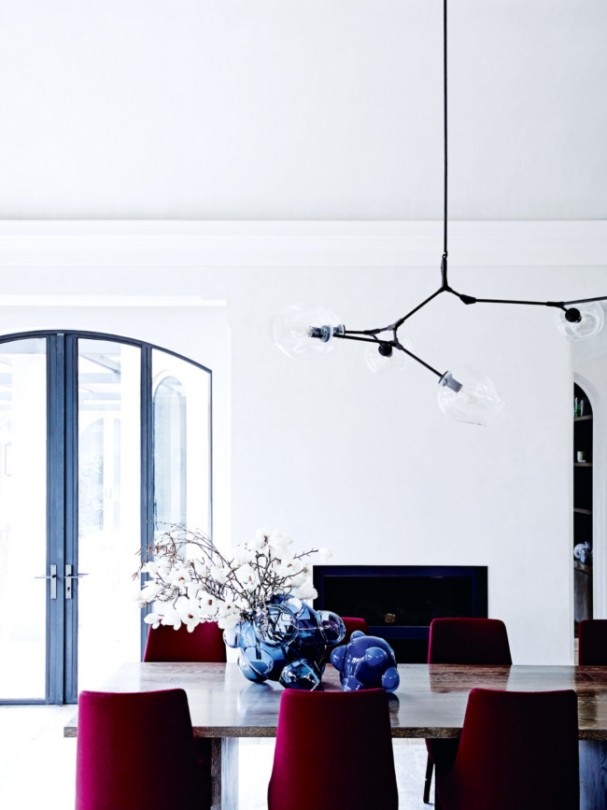 And did you know that "botanical stylists" even existed? These woodland blooms were arranged by botanical stylists Caris Haughan and Vanessa Partridge of Prunella, Australia.
Working with an all white kitchen? Designer Robert Mills accented this Art Deco inspired kitchen with fuchsia, ruby red coloured chairs. (Below:) Black and white is a recurring theme throughout this home. Lacquered bar stools are tucked neatly under this clean, modern island.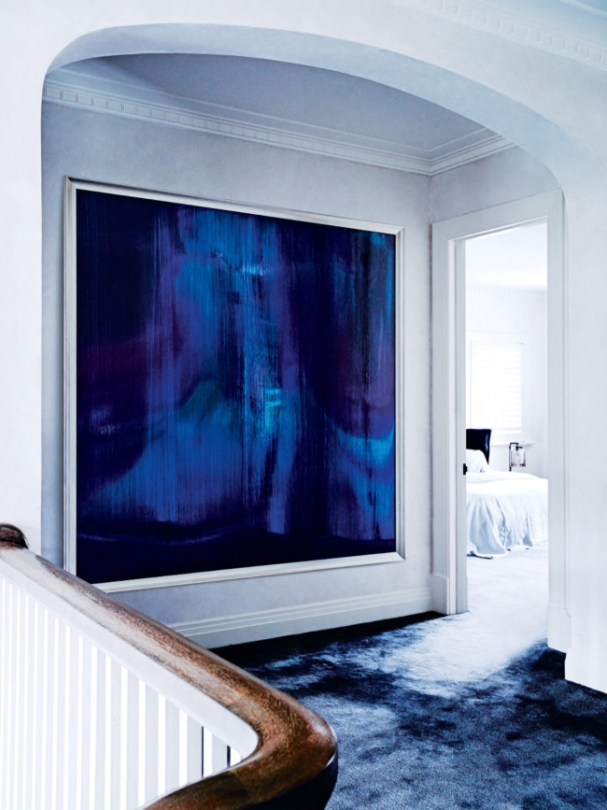 I just want to dip my feet and walk barefoot on this gorgeous carpet! Who says carpeting has to be outdated? If you know how to pick the right one, it can be more luxurious than traditional hardwood floors. The upstairs hallway of this colonial home features soft and fuzzy blue velvet carpeting. Thinking of taking the carpet plunge in your own home? Carpeting can look beautiful and (bonus) is cheaper than hardwood!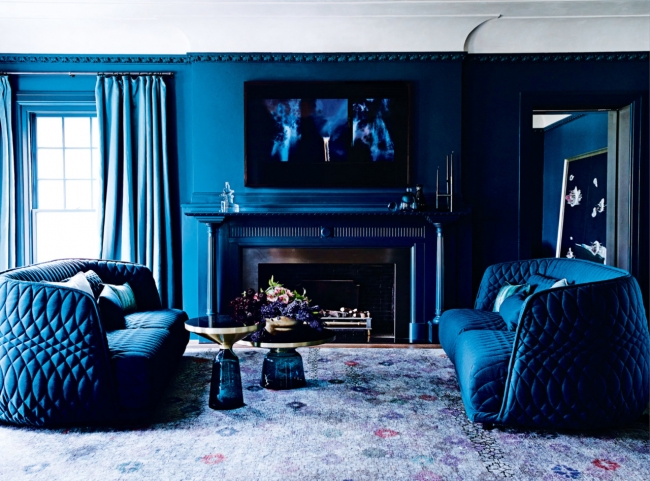 So many beautiful focal points of this grand living room! These quilted blue sofas are by Moroso and the quirky digital print painting is by Anne Scott Wilson named Portrait Landscape.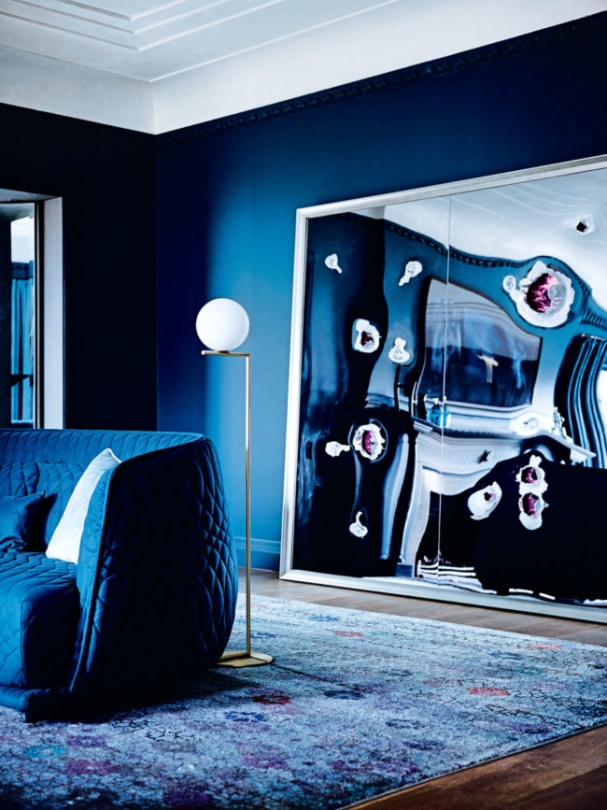 The walls and fireplace are painted in the stormy jewel colour 'Celtic Rush.'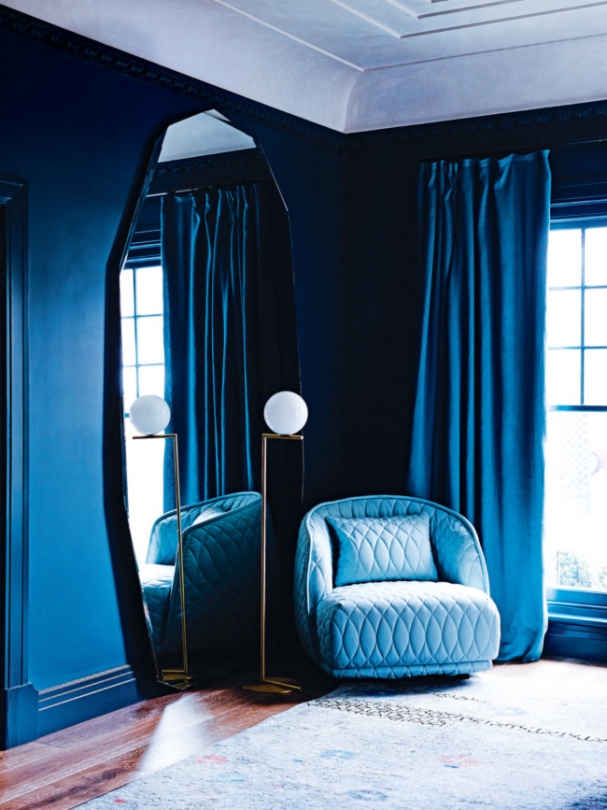 If you have enough space to work with, create a quiet corner for yourself where you can watch birds outside your window, read a book, or just sip some coffee! Not sure where to place a large wall mirror? They don't have to be centered in a room but can be tucked into a corner for an artistic effect. This wall mirror is in a geometric, hexagon shape that makes you feel like your inside an art gallery! When you pick inspiring and unusual pieces, you create interest and communication in your house.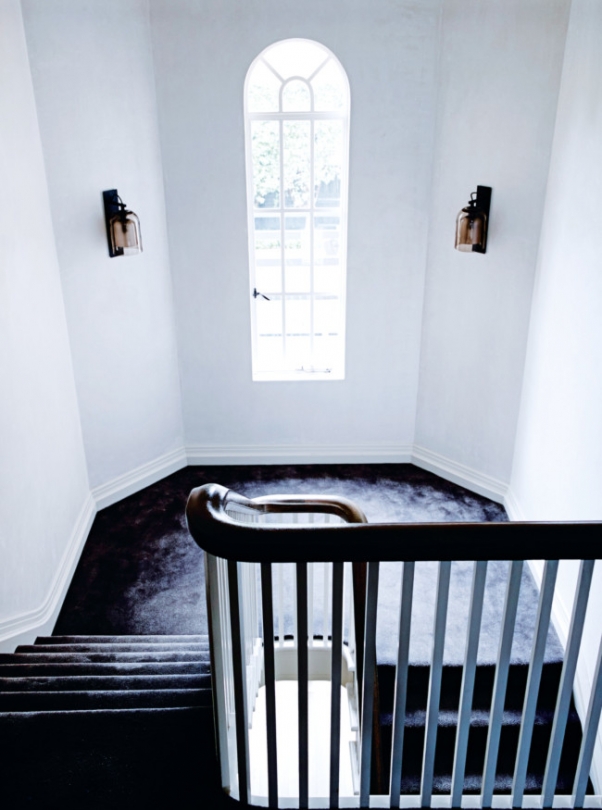 Just like out of an "Adam's Family" movie! The velvet carpeting on these stairs appears to be almost black. I think I'm seriously in love with this.
The shower is almost invisible in this modern and contemporary bathroom revival. By using glass walls to create the shower, it leaves plenty of space for a built in tub and gives the optical illusion that the bathroom is much larger than we think!
Blue and Moody Colonial Home:

SPLURGE EDITION

The Look For LESS Edition